Buy (Sell) Property in Greece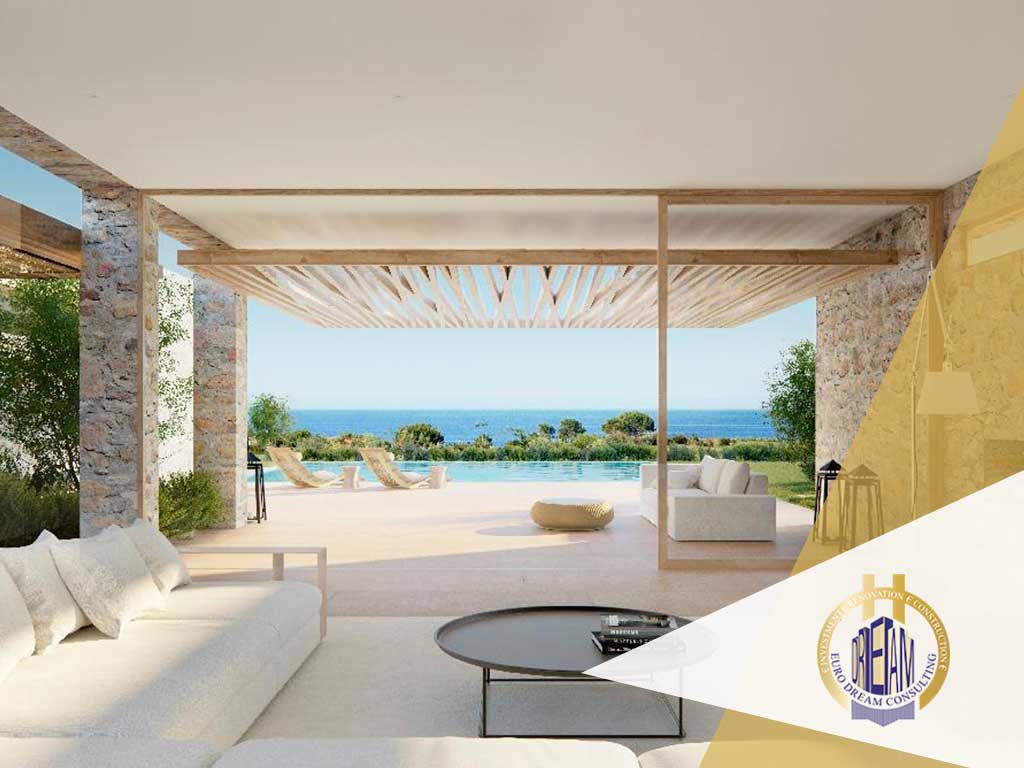 If you are interested in investing and buying real estate in one of the European countries and Greece is one of your options for this, I suggest to get acquainted with all the aspects and conditions of real estate investing in Greece. Please follow us until the end of this article. Whatever you need to get your answer in this regard, you will definitely get the full reading of this article.
Why invest in Greek real estate
Greece has been recognized as a great investment venue in recent years because it has created many investment opportunities for those interested in investing and taking advantage of its strategic geographical location as well as unique competitive conditions. Greece is recognized as the gateway to the EU. A place of great importance due to access to the consumer market of over 140 million consumers in Southeast Europe and the Mediterranean.
Greece is the center of a diverse economic emerging market, with access to countries with high populations and high demand for European goods and services. In the past few years, the country has been able to develop all its infrastructures and networks of technology and innovation, energy and tourism services and social and welfare facilities in line with its growing economy.
Investors who have invested in Greece own the most enduring companies and the most lucrative investment opportunities in Europe. In recent years, more than 4,000 registered Greek companies have invested more than € 15 billion in Southeast Europe. In the financial sector, there are more than 3,000 branches of banks operating both in Greece and internationally.
Investors often believe that Greece has more stable conditions than other European countries. Greece has also become one of the main tourist destinations in the world right now, with around 20 million tourists visiting the country and its regions annually, due to the high need for facilities such as a vacation home, a rental home or a place to stay.
Staying invested in the Portuguese real estate market and buying and renovating old houses in Portugal has become one of the investors' goals.
 Other features include excellent investment conditions in the country's energy market due to its excellent conditions and sunny days, and in particular excellent access to the region, while also providing skilled, educated and cheap labor. It is available in Greece for a variety of things such as building or repairing a home.
In addition, Greece is a rich country with a rich cultural background. Western poetry, theater, music, dance, art and architecture must be rooted in Greece, and this has brought great respect to the country.
 Greece is home to the great philosophers of the history of Plato and Aristotle and Socrates. Today Greece is a special and popular place as a treasure trove of museums, archeological and historical sites and theaters and music halls around the world.
The live performances of the world's music, especially in the cities of Athens and Thessaloniki, have also added to the appeal of millions of tourists, lovers of science, art, architecture, and culture and so on, and many tourists are likely to have a financial turnover and dynamic economic conditions for each one will who investing to this country.
Investing in real estate in Greece, buying any kind of property or even repairing old houses in Greece, however, is a smart investment in Greece and can grow in the shortest time and Bring capital and ensure a pleasant stay at the best of the world for the investor and his family.
Many people from all over the world are looking for ways to live and work and earn a living in Greece. But having capital and investing in this country is the easiest way to get a golden residence in Greece. In accordance with Greek law, you can invest in Greece by investing and buying real estate in Greece, or by creating a new job in Greece, registering a company in Greece, or by buying shares of various companies in Greece and some other ways. Each of these types of law is possible under the laws of various special conditions, which may be the best and fastest way to obtain Greek residency through investment, the purchase of Greek property.
Buying a property in Greece and obtaining a Greek residence can take advantage of the excellent conditions and facilities of this country to enjoy a good life. Free trade, no sanctions and no economic problems, abundant raw materials and minerals and basic needs for any kind of business, as well as having a skilled and knowledgeable workforce with the most up-to-date business opportunities in the country is the sample of Investment opportunities in Greece.
 Remember, Greece is the gateway to the European Union and there is a great need for a variety of commercial services to enter and exit goods and services. The Greek real estate market is also well-positioned, especially in the coastal and tourism areas of Greece, and has become a lucrative market, especially for rental home or holiday house.
By the way, you can easily acquire the golden residence of Greece by investing in property of Greece. Greece's Mediterranean climate will make you full of enjoy of living in Greece. Take a day stroll along the beaches and enjoy boating, golf and other water sports.
Life in Ethno Thessaloniki is very lively. There are many recreational and entertainment venues for families and the real taste of life in this country will always make you happier. Even in the big cities of Greece, crime is rarely seen, and it is socially and economically very secure due to its compliance with the EU financial systems and the ECB's oversight of Greek banks.
Measures taken by the Greek government to facilitate investment in Greece and to protect Greek investors
Greece's economic conditions are also supported by the International Monetary Fund and the EU's economic activities because of its entry into the EU. For this reason, the EU itself has supported investors in Greece and guaranteed them investment in Greece. Since Greece's accession to the European Union, Greece's economic systems have been severely affected by EU and IMF laws.
Further information in Greece to develop investment and make investment more attractive to foreign and domestic Greek investors by providing special conditions, creating a more profitable business environment, by liberalizing a number of government-controlled markets, And ultimately, the creation of easier and faster licensing grounds, new and more flexible investment laws in the labor market, and the conditions for starting a freelance or corporate business in the country.
In general, the Greek government's actions to improve investment conditions in Greece and to maximize the investment benefits in Greece are as follows:
Creating Public Entrepreneurship Conditions: To this end, tax rates of up to 100 have been lifted to assist investors in this sector.
Establishing Regional Coordination: In this project, investors will be faced with different regional projects and needs and their competitive advantages and conditions for investors to enter such opportunities will be facilitated.
Creating Technology Development Areas: This scheme provides companies with up to 80% of government support and subsidies for companies seeking to innovate and invest in new technologies.
Job Creation and Youth Employment: This scheme will support investors who want to create a business that does not have the financial means to pay the required expenses for a period of 5 years.
Having Big Investment Plans: This plan is for investors who need a budget of over € 50 million for their business. Under these conditions, the government will provide the investor with up to 60% of the cost of subsidies.
Having integrated or multi-year business plans: Projects seeking to promote modernization, technology, administration, enterprise and start-ups can benefit from 100% government subsidies. This type of investment plan should be between 2 and 5 years.
Having participatory and networking programs: Programs that include the integration of at least ten companies in Attica and Thessaloniki and 5 companies in other states can benefit from government financial support.
The existence of such financial support for investment projects in Greece has made many investors around the world, through the acquisition of property in Greece, and the launch of various businesses in Greece, with the participation of the Greek government, in one Make the most of the world's most lucrative business owners, and also enjoy the privilege of living in one of the most advanced European countries by receiving Greek residency in gold.
Introduction to buying real estate in Greece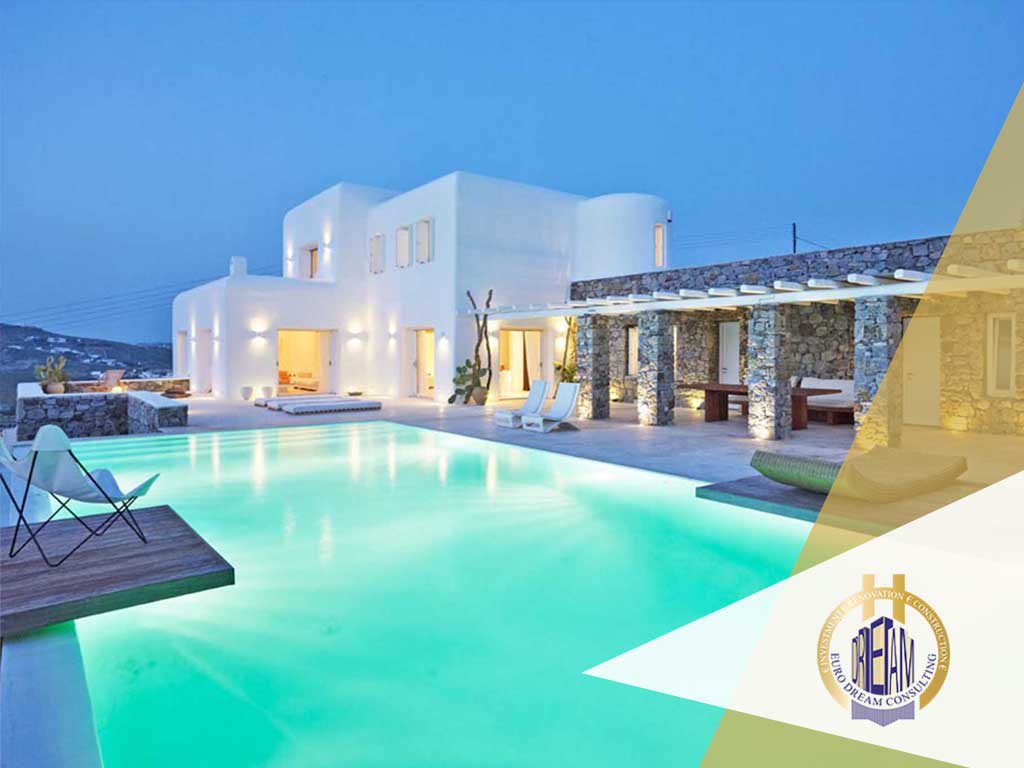 Greece is a land of gods and many antiquities, and as a modern ancient cradle, a land of pure culture, a very rich history and a highly respected tradition. A country with a mild and clean climate with the least pollution, hot summers and endless sandy beaches, villages and seaside towns and cities perfect for tourism, colorful boats, kind people and quiet life and is one of the safest countries in the world, attracted by many investors and immigrants.
The Greeks are much friendlier to foreigners, and life in the heart of this country is always full of tranquility and away from the bustle of some other countries.
The Greeks are not very good at high-rise buildings and skyrocketing apartments, preferring to live in traditional houses with their lovely architecture. For this reason, there are fewer high-rise apartments and commercial and residential towers in the country.
Most Greek homes are built as a townhouse or villa and eventually built on several floors when moving on to towns and houses are often townhouses or two or three floor buildings. And more to villages and beaches in Greece the Houses are often separated into villas or, finally, several villas are built in a villa complex.
Greek cuisine is also one of the healthiest types of European food. Most Greek cuisine uses fresh vegetables, fresh fish and shrimp, olive oil and, of course, wine.
Greece is undoubtedly one of the most beautiful countries in the world with over 1,400 dream islands. It has more than 15,000 coastlines in every area adjacent to villages and small towns, meaning almost all coastlines require a variety of amenities, restaurants, shops and especially holiday homes or rental homes. Greece is truly a paradise on earth where people, especially young people, choose to be their honeymoon destination. This has caused millions of people to visit the country each year and look for a rental home for a few nights. Many of the country's rich and European rich in Greece have bought holiday homes, and many have opted for a quiet life in Greece and living in Greece by buying home in Greece.
The beauty of this country, along with its expanding capabilities and accessibility and infrastructures, has made it a safe place for investors, traders, companies, tourists and retirees. The reasonable cost of living and low property prices in Greece have attracted many interested in European life. Depending on your budget and financial ability, anyone can buy a permanent house or temporary home as a holiday home in this country and live in a country without stress.
But to buy a home in Greece, the first and most important question to ask yourself is what exactly is your purpose in buying a home in Greece? Are you just looking for a vacation home or do you want to live in this country? Are you aiming to invest and profit by buying property in Greece or do you want to have a holiday home as a second home? And ultimately, is your goal to buy a residential home or a business-friendly place? All of these factors can be recognized as property investment in Greece and can result in the issuance of permanent residence in Greece if invested up to at least EUR 250.000.
Buying a home in any case is a big investment in Greece. Whether you want a permanent home or a business property or for a temporary use as a holiday home varies a lot. You have to plan and buy for each in the right area. For example, buying a vacation home should be in Greece's leisure and best climatic areas, and buying property for business should be done in an area that has better access to markets and communications. But you should buy a home in an area that is growing and in a way of developing, and be able to live in an area that is superior to the rest of the space.
Although real estate investing can sometimes be a disadvantage, not just in Greece but in all countries around the world, most real estate investing comes with a good return and as an investment Long term well known.
Now if you are really looking to buy a home in Greece and invest in the Greek real estate sector and are looking for the safest way to do so, it is advisable to consult with real estate consultants in Greece or European real estate. Buying property in Greece or even selling property in Greece should by no means be compared to other countries. Each country has its own exceptions and conditions in the field of real estate.
Advantages and Disadvantages of Buying Real Estate in Greece
What to Consider in Buying a Home and Property in Greece.
Buying real estate in Greece or in any other country always has its advantages and disadvantages, but it is certain to get more benefits in buying real estate, and this is true for Greece. To this end, before discussing the following, we will first discuss the advantages and disadvantages of buying a home in Greece. These are especially important in your selection.
Benefits of Buying a Property in Greece:
Mild weather in summer and winter
One of the cleanest in the world with very low air pollution.
High value for money in Greece
Convenient and easy conditions for investing in real estate in Greece
Affordable property prices compared to many other European countries
Granting Greek residency in exchange for a lower cost of buying property in Greece than in many other European countries
Possibility to obtain a Greek Golden Visa by buying property in Greece and traveling
unrestrictedly to all EU countries and party to the Schengen Agreement
Simple terms of sale of property in Greece in the shortest time
High profitability in the shortest time due to high demand for property in Greece
The presence of millions of tourists in Greece and the high demand for rental homes
Simple and clear rules and regulations regarding land documents
Simple and fair rules between the tenant and the homeowner
Free work and education in Greece by buying property in Greece
Purchase and rent in the best areas of Greece
Possibility of dealing in real estate both in person and by a lawyer
Good, tasty and nutritious foods
The cost of living is about 25% lower than in other European countries
The quiet and uneventful flow of life in Greece
Friendship and hospitality of the Greek people
Dramatic Mediterranean beauty in the country
High quality of life in Greece and so on
Disadvantages of Buying a Property in Greece:
High upfront costs to buy property
High renovation and repair costs in Greece
It is more difficult to access specialist services and labor for home remodeling than other countries.
The risks of buying a property without legal advice in Greece are higher than in some other countries.
Overcrowding of tourists in tourist areas, especially in hot seasons
Relatively high traffic in urban centers
Lack of adequate drinking water in some cities
The cost of traveling to Greece is almost high.
Before buying a property in Greece, you need to research thoroughly and make sure you have reliable sources and reliable books on your purchase. We also suggest you read the two Homes Overseas and Homes Worldwide magazines before making the final selection, or visit property exhibitions such as Outbound Publishing or East Sussex BN21 3XQ.
We also strongly recommend that you consult with a legal specialist in Greece property before buying home in this country.
You should also note that the investment costs and information given to you on various sites and magazines are not always correct and when you enter into a real estate transaction to buy a property you will find are another form.
Restrictions on land and property ownership in Greece
There are no restrictions on real estate ownership in any EU country, such as Greece. Only if you want to buy real estate in cross-border areas you need to get permission from local authorities, which is usually done automatically when you apply.
Of course, some areas of Greece are called security zones, which is why non-EU people are not allowed to buy homes and properties in those areas. These areas are usually in the border regions of Epirus, Florida, Kayos and Samui in the northeastern Aegean Islands.
Buy property in Greece for investment
What you need to know
In recent years Greek real estate investing has been excellent and useful, especially in popular islands such as Crete, Corfu, Rhodes and the Peloponnese.
There are various types of real estate investing in Greece. Buying a home is a safe investment, which can greatly benefit you by renting it out to short-term or long-term applicants.
Of course, the added value of a home over the years should also be seen as a benefit to buying a home in Greece. Buying a holiday home in Greece will give you the opportunity to use your own home without having to pay for accommodation, and secondly, by renting this home as a rental home you can earn more money and benefits.
Buying a home in Greece and using it as a holiday home or rental house is usually more popular than buying and selling a home in Greece, as it takes years for a home to grow, and it has to Make a profit, spend a lot of time, or sell your property and buy new real estate in less expensive areas, which is not recommended. While buying a home in Greece, or buying old houses in Greece and repairing and rebuilding a home can both make a monthly profit, and can also boost the price of land throughout the year.
Basically, real estate investment in Greece is divided into four parts:
Buying a vacation home or holiday home that can be beneficial to you in many ways. Firstly, the value of the property is very likely to be maintained and secondly, you can rent the property to your family and friends for a vacation and get good income. If you are lucky and the property is well developed in your area, the profit from the investment will be very good.
You can take advantage of special pre-purchase housing conditions in Greece and buy a home for your children. If the property is ready sooner than you can still allow the property to be rental home and make good profit.
You can buy real estate for your business Greece or even for other reasons. This property can be used for a variety of purposes, such as tourism, breakfast, restaurant, accommodation, shop or office.
Buy a property solely for investment or residential use only for investment. Many people even invest in Greek construction projects in Greece.
Greek real estate investment should be considered in the medium to long term. This should be a minimum of 5 and a maximum of 10 to 15 years. Keep in mind that property should not always be seen as a safe investment in Greece and may be risky in the short and long term. You should consider income tax when investing in Greek property as well as the high costs of buying up to 15% when selling a property in Greece.
Real Estate Agencies in Greece
All the issues you should consider when dealing with a real estate agent in Greece.
There are thousands of real estate agents in Greece. In Athens alone there are over 2,500 real estate agents. Property sales in most parts of Greece, even in border areas, are handled by Greek real estate agents and foreign brokers. Property brokers are often active outside of Greece.
Many property deals are used by real estate agents for foreign investors. The best areas for investing and buying property in Greece can be invested by foreign investors. Keep in mind that some Legal Institute in other countries cooperate with most of the Greek real estate investment brokers and it is easy for foreigners seeking to buy property in Greece to be able to choose the best areas to buy property in Greece in consultation. Other services of these institutions include the sale of foreign clients' property in Greece, without the need for a personal visit by the property owners.
It is important to choose the most prestigious real estate brokerage firms in Greece or Legal Institute in your country that besides providing real estate deals, providing the services such as legal advice, insurance, water, electricity, interior decorating, construction consulting etc.
Assessment of Real Estate Advisers in Greece
Real estate consultants in Greece must be registered in accordance with the law of Greece, these Real estate consultants must be professional and qualified and have the necessary permits. If possible, you should choose an agent and a real estate consultant who is a member of Greek professional associations, such as the Hellenic Rural Association. Members of these associations must have received a code of ethics and customer relationship management. This code must have been obtained from the Greek Property Federation. Even if the institution and real estate agent you are considering is a member of an international organization such as the European Confederation of Real Estate Agencies (CEI), your assurance and protection of your capital will be guaranteed.
Warning: If you request a deposit from your real estate agent in Greece to buy your real estate, make sure you deposit it in a separate account in your own name.
Real estate consulting costs for buying a property in Greece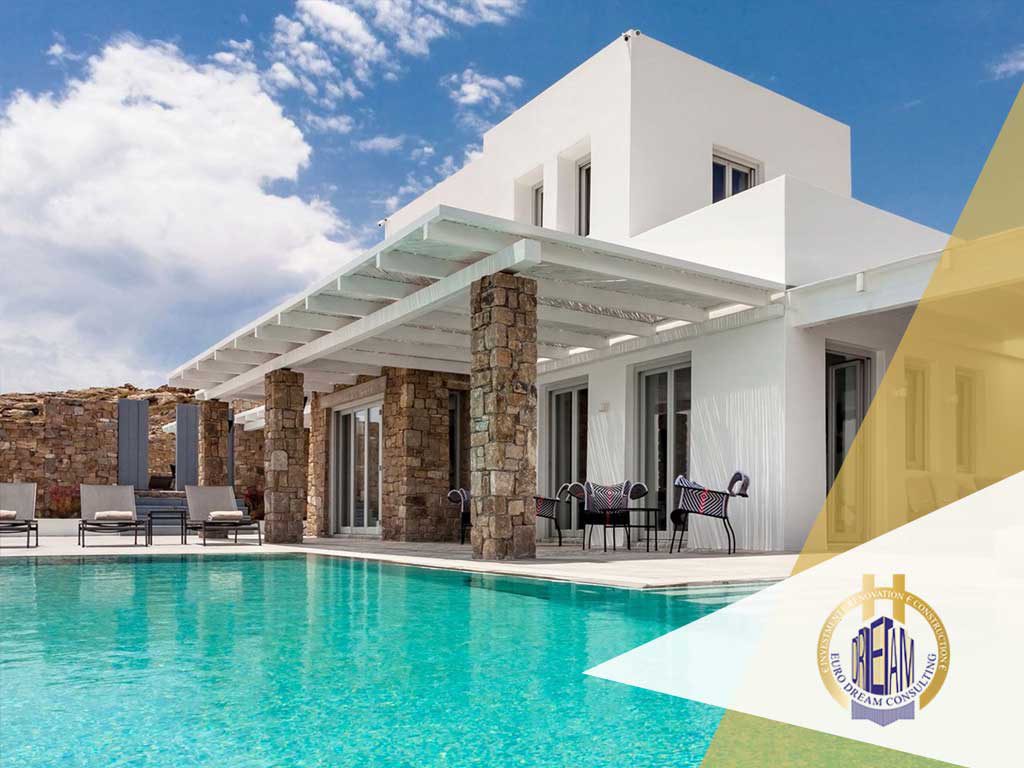 There is no direct government oversight of the cost of real estate consultants in Greece, and this is usually agreed between these consultants, accounting for between 2% and 5% of the sale price of the house, with 18% of the value added tax being paid by the seller and buyer. This amount is usually added to the total cost.
Usually foreign real estate buyers and foreign investors in Greek real estate, if they deal with local real estate consultants, calculate the commission as standard, meaning both the buyer and the seller pay the same transaction fee. But in any case, before the transaction, the costs needed to be checked and the usual commission received. When purchasing a property in Greece, you should also consider whether you should pay other costs besides the normal costs and taxes that you pay.
Visit Property and Check Property Terms before Buying Property in Greece
Before you go to the list of Greek real estate, you must first decide what type of property you want to buy. Want to stay or for business? How much money do you have for buying a property in Greece? What are your details? What is the price range you want to buy? Need a townhouse or a rural home? Is it a villa or an apartment? Be it commercial or residential? And all sorts of other things related to your idea of ​​buying a property in Greece. Then you have to prepare your list of real estate agents and brokers that you should visit.
Real estate consultants usually do not provide accurate information to the buyer, providing half or not enough information and not detailing much. Although many sellers post photos and images of their properties on various websites, real estate consultants usually do not have photos or videos of the property you are looking for.
Note that in Greece there is no place to provide you with a complete list of properties for sale and most real estate consultants have only a few real estate properties for sale. But the various brokerage firms that contract with them usually provide them with a list of properties. Many international brokers and law firms, however, usually provide a complete listing of properties in popular areas and tourist settlements for their customers that are ready to invest in Greece property so that they can better encourage their clients to buy a home.
Brokers usually put different homes and properties on their sites, displaying complete property specifications along with color films and photos for those interested, and even clarifying local and regional conditions. So they can easily decide.
Brokers are much more professional in providing information, generating enthusiasm and buying motivation and important decision-making options than real estate consultants and selecting properties for sale to their clients that are in better condition.
Warning
We recommend that if you are going to use your Greek real estate advisor before buying home in Greece, make sure that you continue to maintain your terms and that you will not be subject to change when you request and apply.
Many professional real estate consultants have websites and have posted real estate information on these websites. However, sites rarely put all property information and properties on their site and prefer to persuade a client to buy a property in Greece after attracting a client.
Some real estate agents may give you a document to sign before they are show you the property so that you can approve it. Don't worry, this document is for the sole purpose of protecting the property.
When dealing with land, usually real estate consultants will not give you the key as an applicant to buy a house in Greece or rent a house in Greece until they have agreed with the landlord. Also, they will not face you to the property owner until the transaction is finalized. So instead of trying to convince them, ask them to show you the property. If you have deals with real estate agents or companies for real estate and brokerage services, this appointment would not be cancelled, so if you don't want to or you can't get an appointment on time, it is best to call and cancel.
Refer to Real Estate Advisers in Greece Keep in mind that local real estate advisers in Greece do not work at lunchtime as well as on Saturdays and Sundays.
During your stay, you should visit as many properties as possible. However, you should still allow enough time to visit the property and do not rush at all. It is also important that you have a sufficient number of visits, reviews, and investigate of your real estate that fit your money. But don't try to see many lands and houses in just one day, as this will confuse you and visiting the different properties and different lands and homes case you to miss understanding about the characteristic of the properties.
If the person presenting the land does not give you the details and other things you want to know of the land well, let your real estate agent know immediately. Also explain the reason why you do not accept a home to a real estate agent, this will help them.
You can take notes of the pros and cons, as well as take a few photos of the property you are visiting, and this will help you explore and select the best property in Greece. So you can take a good look at these photos and tips at your leisure time and choose the best property and measure the property well and ultimately buy the best property in Greece to suit your needs.
Another point is that you can mark the house on the map, so you can easily get to the location later and get additional information if needed. You can do this without the presence of a real estate consultant and get more accurate information about the property from the locals and neighbors. The more you are offered a home and the more reviews you have, the more likely you are to find the negatives and consider buying a home.
Visiting trip to buy property in Greece
Many real estate agents and real estate brokers plan for low cost travel buyers to match and approve a home. Some of these brokers and realtors will even refund the travel cost even if they are dealing and buying property. With all the benefits that this Visiting travel will bring you, it will allow you to examine the property closely and make better decisions, but you should never again push yourself hard to buy the home and property offered, and easily If you do not comply with your wishes, you can ignore the property and explain the reason to the real estate agent or broker.
Always give yourself the right to see a large number of properties and houses, and think through all the options offered by brokers and realtors and make the necessary inspections. A weekend is a great time to take a look around your desired location, even if you have already checked your property well and made the decision to buy a property in Greece, and you are well sure of it, still a Take a weekend to check around the place is a good option. Sometimes the home environment can influence your decision.
Select a legal consultant to buy property in Greece
Never push yourself to buy a real estate in Greece and be influenced by advertising. Always seek a qualified and experienced legal counsel. Some real estate agents are pushing the buyer, preparing the deal quickly and telling him that if you don't sign today, there are other buyers to buy and standing in line.
 Even true in some cases. Some sellers will try to convince you to buy and will tell you that you do not need a legal adviser on the pretext of transaction costs and transparency.
Rest assured, if you do not use a legal advisor, you will be more likely to make a mistake and your chances of solving a property problem will be much lower. All lawyers must have legal power of attorney.
These lawyers are ready to work with you in some real estate consultants, companies and brokers. The best choice for you is choosing a broker from your own country. Brokers that are highly experienced domestic and foreign brokers who guarantee your transactions and are fluent in Greek language and Greek property law.
Price of real estate in Greece
Does the real estate price in Greece fit your budget?
One of the most important things to do before choosing a destination in Greece is to be able to basically buy a property in Greece and have the necessary budget and cost?
Until 1990, foreigners could not own real estate in Greece. The real estate market for sale to foreign investors is relatively young, but it is growing in popularity. However, it is not far from leading countries such as Spain, France and Italy. However, brokers and real estate agents who sell their homes to foreigners are being added every day, and the Greek government agrees. In 2003 alone, about 3,000 properties were sold to foreign investors. This, of course, has caused property prices to rise in Greece as well.
Note that the Greeks do not fully recognize property as capital. Most Greeks stay in their home for many years and rarely make the move. So you should not expect a very fast growth in real estate investment in Greece. You should also set aside up to 15% of the cost of the property when buying any property in Greece, and keep that in mind.
If you can't afford to pay a single price, you should look for options that you can pay in one to several years and own the property. Various schemes for property ownership in Greece include partial ownership of the property, purchase of the property so that the previous owner will continue to use the property until definitive ownership, and installment purchase over the time of the property.
Warning about sales conditions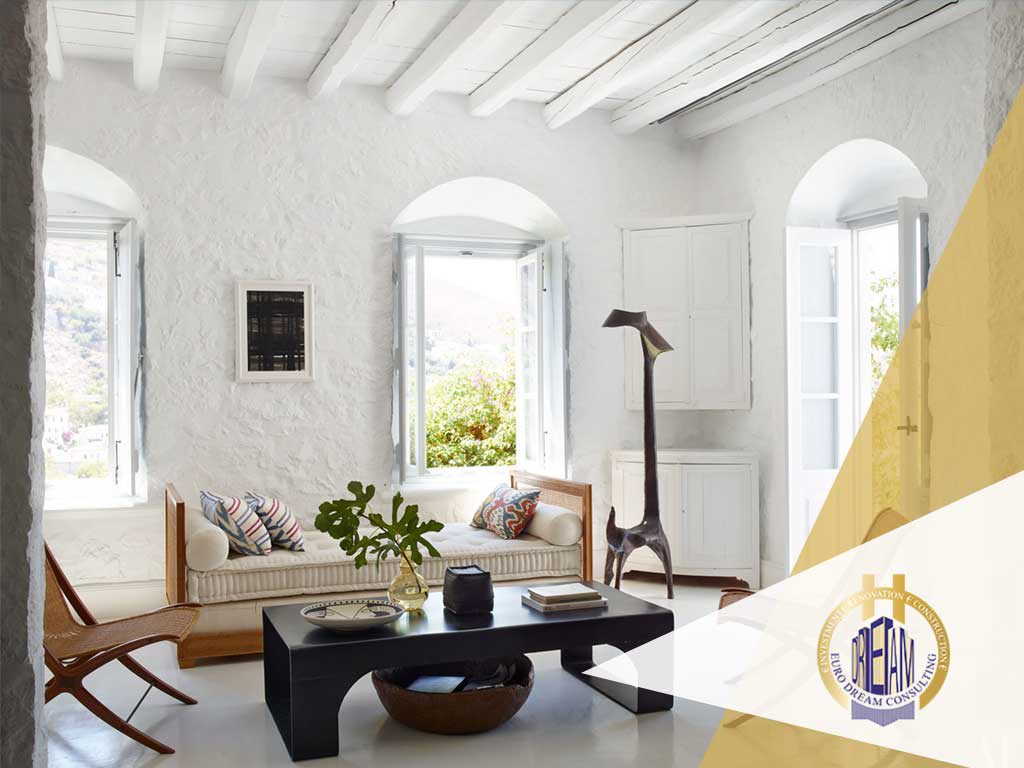 Do not be hasty about any plans and sales terms and conditions that may be announced in order to thoroughly research your target market. All of these plans should be well reviewed. Their conditions should match your conditions and your budget.
On average, property values ​​in Greece show less than 5% growth per year. This is also due to rising inflation and rising costs. However, property value in Greece is growing more in popular areas and modern islands of Greece and investors' interest in investing in Greece. In Crete, for example, the percentage of growth and increase in the cost of land in Greece is about 8% per annum, up from 20% in our quasi-jungle in Peloponnese. Athens is also experiencing higher price growth in some areas.
Even the type of property purchase in Greece has a direct impact on property value growth. For example, people who buy old homes in Greece and after remodeling, renovating, reforming, or whole repairing try to sell this property, all have a higher chance of earning more and a higher percentage of property value.
But overall, with the exception of these areas elsewhere in Greece, property price growth in Greece is almost stagnant, but this trend does not appear to be stable and forecasts indicate that there will be good price growth in Greece in the future.
You should not expect rapid growth and immediate profitability when investing in Greek real estate, but instead invest in Greek real estate and at least you will not face a drop in capital.
In the meantime, you will financially secure yourself and your family and provide them with a comfortable living in the country, as buying a property worth at least € 250,000 will make you a permanent resident of Greece with your family.
Buyers and investors in Greek real estate pay more attention to popular islands like Corfu, Crete and Rhodes and the Peloponnese. You don't have to buy expensive and luxurious homes in Greece in order to have a normal and peaceful life in Greece. Old apartments and villas can be bought for € 40,000, modern apartments for € 60,000, and detached villas and new homes from £ 150,000. However, in popular areas these prices are much higher. There are also different types of villas, apartments, townhouses, country houses or beachfront homes in Greece that can easily be adapted to your needs.
If you are looking for a luxury home with great land, pools and many amenities in Greece, you should spend at least 200,000 euros depending on the area you are looking for. Those with no limited financial resources, have not limited choices and can afford to buy a luxury home with all the amenities in Greece for over a million euros.
Of course, it should be emphasized that the purchase of property in Greece will result in the issuance of a residence permit in Greece when at least EUR 250.000 is invested in Greece. Keep in mind that you have no obligation to pay the entire cost of buying just for one home in Greece. With the same capital and a little more you may be able to buy more than one or more houses in Greece and try your luck in some other areas for greater profitability. The sum of your investment in Greek real estate is considered for issuing a golden residence in Greece, not the finished price of one home.
How much is the value of real estate in Greece?
Greece has a relatively lively property market. However, in the past few decades, due to foreign ownership constraints, it was less able to attract foreign investors.
Until 1990, foreign agents were less likely to buy real estate, Greece was underdeveloped, less developed, and most areas in the country considered unfit for investment, with distances from countries such as Portugal and Spain 20 to 30 years. Greece, though, had a magnificent area of pristine tourism and had great investment potential.
But after this year, with careful planning and thorough oversight of comprehensive development and renovation, and with a view to preserving the local character and antiquity of the country's structures, Greece has achieved remarkable development, making good investments in many areas, many properties were sold, old-fashioned rural homes were sold to investors for renovation and refurbishment. Many investors invested in buying a piece of land and building a house. Property on the coast and islands of Greece were insured.
Prices remained stable in most areas and were largely unaffected by the European recession. Most foreign buyers and investors are in Greece was England, Germany and Scandinavia. Of course, in recent years Russian and other Eastern European buyers have joined them. The British often choose the Greek islands and the Germans often the mainland of Greece for investment.
One of the things that attracted foreign investors to Greece was the relatively low price and cost of Greek real estate than elsewhere in Europe. Over 80% of Greeks have and own their homes, although Greeks often do not recognize the home as an investment and therefore property does not grow rapidly in Greece but many wealthy Greeks still take action. They bought a second home or vacation home for themselves in the coastal areas of Greece.
However, property prices in Greece have increased significantly in recent decades. Most of the increase in Greek property prices is due to the popular islands of Greece, especially with Greece's entry into the European Union. In addition, the law on the restriction of foreign ownership in Greece was amended.
It is important to note that when buying property in Greece, as a foreign investor, if you want to buy property in Greece yourself, you have to compare prices well with the prices given to the locals, Because in some areas the prices offered to foreigners are higher than the local ones. Also, winter property prices are usually lower than summer. Even if you have lived and known in a certain area of Greece for a while, you may be offered less and better discounts when buying a property in Greece.
Compared to the sharp fluctuations in property prices in some other European countries, real estate prices in Greece are growing at a slower pace. These conditions are especially calm and stable in villages where there are fewer buyers and applicants.
In Athens, of course, prices have fluctuated and grown more in the past few years. Regardless of the appearance of the building, size and area, quality and type of construction, the most important factor in determining the price of a home in Greece, is the position of the property or house in Greece. The lowest price is in rural areas, where, of course, a rural home has all the amenities and conditions to go there. Greece's highest home prices, however, are for townhouses or luxury apartments in central Athens and other major Greek cities. Some coastal areas, however, are very high price due to their situation and popularities.
The quality of home construction in Greece varies greatly depending on the materials, equipment and fittings and the type of operation in the home. The value of homes also varies, and in one area you may see two or more examples of property at different prices. So checking a few property examples is the wisest way to choose the best option.
Advertisements for a home in Greece usually only mention the size and number of rooms. When comparing prices, consider the price per square meter of residential or built area, consider the terrace, balcony and patio separately. If you are in doubt about any of the statements by a real estate consultant, check it out for yourself.
Fewer homes in Greece have a garage or parking space, except for villas or private homes in Greece, which may include a car park for construction purposes. Some apartments in Greece have underground parking. When choosing a home try to take good care of the parking option, not having parking in some areas of Greece is like a nightmare, especially in the bustling cities and areas of Greece.
The position of the property, and the old and new construction of the property, have a direct impact on its price. Athens is an expensive city in Greece, as most foreigners tend to invest and buy property in the Greek capital because of their easier access or working conditions.
Newly renovated apartments in Greece, with one bedroom in the Greek Islands, priced at around € 70,000, two bedroom apartments in Greece around € 100,000, and three bedroom apartments in Greece priced at around € 120,000. While buying a one- or two-bedroom apartment in Greece starts at the lowest price of € 105,000 and reaches € 200,000, and even more in the better areas. Two bedroom villas and three bedroom villas in Greece with a suite bathrooms and toilets start from 150,000 euros and can reach up to 300,000 euros with amenities such as a pool and Jacuzzi and a large lounge area.
Town houses in some areas of Greece are much cheaper than their coastal areas. Stone houses are very common in many areas and can be purchased for around € 50,000. But keep in mind that the cost of renovating and repairing or refurbishment of these homes will usually be twice the cost of buying. Old rural homes are often between 50 and 75 meters under construction and often have only one room, bathroom and toilet.
With these explanations, it can be concluded that you can buy a home in Greece for about 50,000 euros in Greece. In one study, it can be estimated, on average, for any type of home in Greece that, for a one-bedroom apartment in Greece between € 70,000 and € 150,000, for a two-bedroom apartment in Greece between € 90,000 and € 350,000, To buy a two bedroom townhouse in Greece for between 95,000 and 250,000 euros, to buy a bungalow in Greece for between 100,000 to 300,000 euros, to buy a country house in Greece for between 50,000 and 200,000 euros, to buy a farm in Greece between 160,000 and 300,000 euros, to buy a stone house in Greece between 50,000 and 500 thousand euros, to buy a three bedroom independent villa in Greece between 150 and 500 thousand euros to buy a luxury villa in Greece should be between 350 thousand euros at least to be spent over 1 million euros.
Of course, this price was only limited to residential homes in Greece. The price of commercial real estate in Greece is much higher and especially in urban and commercial areas of Greece the value of commercial real estate in Greece is extremely high. Accordingly, buying a 400-meter commercial property costs over € 1,100 million and sometimes commercial properties such as hotels or commercial complexes are available for sale in Greece for over € 8 million.
The extra costs you have to pay when buying a property in Greece
When buying property in Greece, you have to pay a variety of costs, usually between 10% and 15% of the cost of the property, which is higher than many countries around the world.
Evaluating the tax value of property purchase in Greece
The highest cost is related to the property tax value, which is usually less than the estimated cost. How much lower to pay depends on the location of the property in Greece. In urban, border and Greek islands, this tax value is usually higher than in more remote and less popular areas. Property tax value in Greece is calculated by local tax authorities based on government charts, using criteria such as property location, size and property characteristics. This amount of tax value assigned to the property is usually included in the property's final contract.
In some rural areas the calculated tax value is negotiable, but in others it is quite constant. You must have a lawyer to calculate the tax subject in writing to calculate the property tax value.
Declaring the tax value below the actual and estimated value of the property will result in heavy fines and problems with the sale of the property. Greece offers a tax value more proportionate to property prices than other EU member states.
Fees to pay when buying a property in Greece include:
Tax on purchase or transfer of property in Greece
Property tax  in Greece(for new buildings, renovating, refurbishment, Reforming or remodeling the home)
The cost of registering land in the Greek Documentation Agency
Notary fees
Attorney fees
Municipal taxes
Cost of mapping
Cost of real estate sales agents
Facility costs and amenities
Taxes on buying a house in Greece
The cost of home purchase tax in Greece is calculated according to the assessed tax value. This tax will be added by the buyer at 7% in the first 15,000 euros and 9% in the remaining tax expense. Unless the property is located in an area in Greece that is covered by a public protection service. These areas are usually areas intended to sell property to foreign investors in Greece.
 In this case, the first 15,000 euros for the home, 11 percent for the first tax and 9 percent for the rest. For example, if your property is in the area with fire services and your property is worth 100,000 euros you will have to pay a total of 10,700 euros in taxes. 1,350 for the first 15,000 euros and 9.350 for the remaining 85,000 must be paid.
VAT on property in Greece
New legal structures in Greece for building and property conditions, which have been in force since January 2005, account for 18% of property tax. This is mandatory regardless of when the building is completed and for the construction permit to be completed. While VAT may be levied on property construction, renovation, refurbishment, remodeling and reforming and even some building repairs.
Cost of Land Registration, in Greece
Land registration costs will be 0.3 to 0.5 percent of the assessed tax value of the property, with minor costs for stamps and other certificates as well.
Notary fees for property transfers in Greece
Notary offices are responsible for the preparation of the final real estate contract for the purchase or sale of the property or to manage the sale and transfer of the property. These offices cost between 1 and 2 percent of the tax value of the land. You should also add to these costs the minor costs of preparing documents and documents.
Attorney fees for buying property in Greece
The cost of a lawyer in Greece is assessed as the party involved in the property transaction up to 1% of the tax value. The tax cost depends on the value of the property. You must agree with your lawyer before calculating the tax value of the land. Choosing a lawyer and paying the legal fees of a lawyer is optional, but highly recommended. It is best to have a lawyer of your choice in your own country and in your own language. There are many expert lawyers in your country who are the best choice for buying and selling property in Greece.
Municipal taxes on the purchase of property in Greece
Costs that must be paid when buying a property are municipal costs or municipal taxes paid for public activities such as road maintenance. The municipal costs will be paid at the same time as the purchase tax with other tax costs and should not be referred to the municipality itself for payment.
Property Mapping Costs in Greece
You can use a surveyor to recommend the home or property you are looking for. The cost will depend on the type of survey and the type of land and the value of the property or land.
Cost of real estate sales agents in Greece
The cost of selling the property is between 2% and 5% of the property price. This fee must be paid by both parties to the transaction and divided between them. Sometimes the buyer pays for this at a favorable price, and the buyer actually pays.
Cost of utilities to buy property
As a new owner, you have to pay for electricity, water, gas and installation of their meters. You should ask the seller or builder of the property to provide you with the costs associated with your welfare service in writing. The costs of utilities, gas, and other amenities are with the buyer.
Reviews and Surveys Needed for Buying a Property in Greece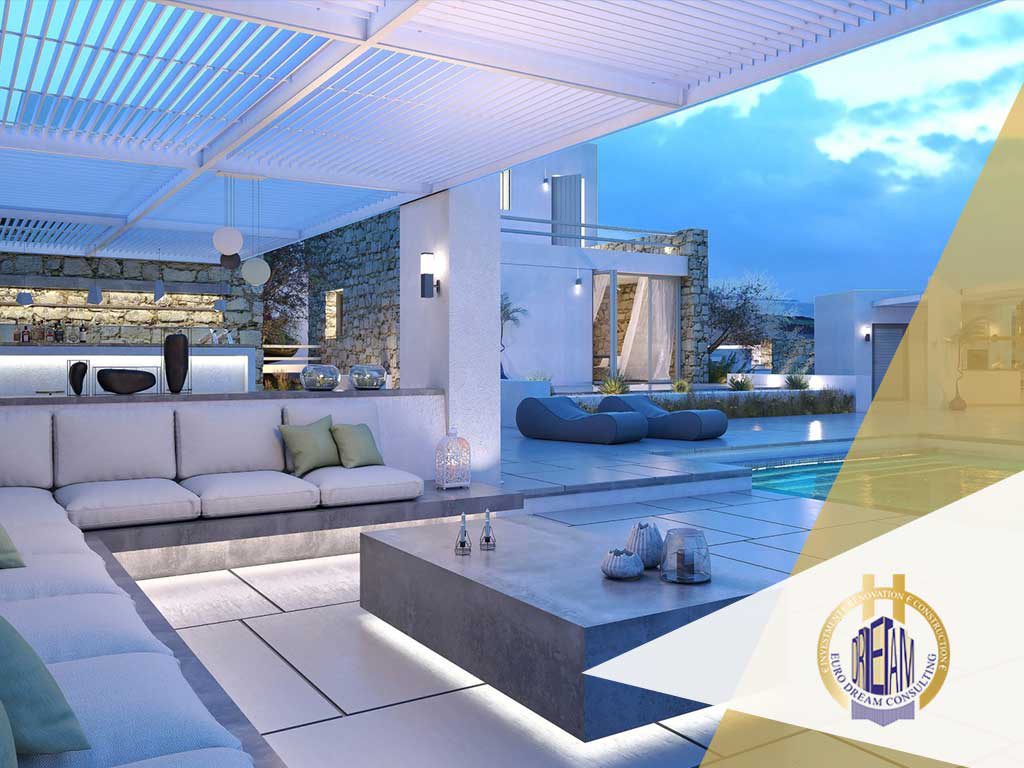 What kind of property are you looking for in Greece?
When you want to find the property and the house you like in Greece you have to scrutinize it and evaluate the various situations and ask about it.
Obviously this will depend a lot on the property you are looking for. Whether you are looking for an old, rustic property in Greece and looking to restore it, you want an almost new and modern home in Greece or you need a new and luxurious home with all the amenities you need. Would you like an apartment, downtown, a villa or a beach house? The thing about renovated buildings and houses is that unfortunately you can't really determine if it's done well, especially if the person who did it was the owner of the property. If the renovation or refurbishment work or repairs by the local companies or architects are difficult to accomplish, you can also invoice costs and construction costs for the renovation.
You can do the basics yourself for buying a home in Greece. Examples include: Checking your home's electricity system, water and gas plumbing, and heating, especially if it is central. You may not even have much control over these issues, but some problems can be easily understood with a simple glance. For example, if there is no water or electricity from the first connection point, you can check it out or contact the Water and Power Authority to find out why. Don't get these issues at all, especially since they are very expensive in rural areas.
See if the house has a proper tank or septic tank? If yes, be sure of its health. But if there was no septic tank and no facilities available, check if there is a bulldozer or device for drilling and creating a hole for the tank in the area.
Some of the old houses and properties in Greece easily have signs of damage and ruin, and one can easily see the depreciation of the house. Like broken and cracked walls, high humidity and infiltration everywhere, shed false ceilings and rotten wood and so on. Some areas are prone to flooding and moisture due to floods and storms, and will have high leaks in the first rain. In this case, it is best for you, besides yourself, to have a professional review the property to make an assessment of the damage. If you hire an expert, ask him or her to review everything, including termites and other contaminants in your home and environment.
Usually international real estate agents will not recommend you to buy an old house with these conditions, or at least determine the damages themselves with the help of experienced experts, and will determine all the conditions for you. Even with regard to property prices in each region of Greece and depending on the property conditions you will be given expert opinions to make a final decision. Of course, homes that are 10 to 20 years old usually do not need these surveys, and are usually in good health unless the home is built in areas such as fault zones.
How to find the property you want in Greece?
Using the services of brokers and real estate agents in Greece
Greece is a vast country with many islands. This has made many of the places intended for investment different. For this reason, most people who want to buy a property in Greece get help from agents or real estate agents, who have a list of properties in different areas. Many of these real estate brokers and consultants are also affiliated with law firms and international brokers and provide good services to these agencies. Therefore, many foreign investors contact with international real estate in their home country without having to be in Greece in order to find the best property in Greece.
One of the most important reasons to offer you the use of consulting services and real estate brokers in Greece is the question of the nature of real estate in Greece. These brokers can also provide you with the best property, tailored to your needs and capital in Greece, other related services such as insurance, land registration, contracting, selecting potential contractors and more. It is advisable to choose a broker that is well known among the people in the capital. Generally speaking, if you are looking for a guaranteed property purchase in Greece and you intend to make a secure investment in Greece, a formal contract with a real estate or real estate broker in Greece is the best choice. However, keep in mind that this real estate broker must be legal and have a registration number.
Beware of real estate fraudsters
In recent years, the growth of investment in Greece has led some abusers to do so. Just like in many other countries, there is also the possibility of fraud and scams in Greece in the real estate sector. Although fraudulent practices change every day and you cannot dare to list the precautions in this area, but if you are planning to buy property in Greece, it is best to avoid the fraudsters. Consider:
Never before visiting a property or a home in Greece and just by one appointment with the seller, give money and deposit to  the seller, and always check the land and seller documents before making any land deposit.
Always apply for an up-to-date inspection of your property. The seller is required to provide this
While inspecting the property, check with the land advisor on the property yourself and check out the various things yourself.
Make sure that the seller has the right to sell the property and is recognized as the property owner or legal representative of the seller.
Double check your rights of property.
It is advisable to make any transaction, purchase or sale of property in Greece with the help of a professional legal consultant. Try to never buy or sell a property in Greece, or consult a professional on your own.
Use specialized websites for buying and selling property in Greece
If you are fluent in Greek or know your rights to buy property in Greece, and want to escape the burden of real estate consulting costs, the best way is to list online and reputable property sales sites in the area Check out various Greeks. Today, thanks to technology, there are many sites that provide the necessary and sufficient information on various properties to provide a list of these properties for domestic and foreign applicants to buy property in Greece. Many of these sites even check their documentation and credentials for their homes and lands and publish some land documents. It should be borne in mind that most Greek property sites are not reputable, but some of these sites may be of great help to you in buying a home in Greece.
The most important and prestigious property sales sites in Greece are:
Home Greek Home
Hellenic Realty
Tospitimou
com
A Property in Greece
Warning
No matter who makes the deal for you, whether it's a broker or a local real estate consultant in Greece, in any case you need to check the property thoroughly.
Rural houses, villas, townhouses, apartments, villas, and luxury homes are not all different in the city, in a coastal area or a rural area, especially if the house is next to hills or geographical conditions Requires expert inspection. In old buildings, common problems can be pipe rust, water leakage, poor sewage disposal, poor wiring, high internal humidity, non-planar floors or no concrete base, building facade failure, cracking and shedding, Cited interior and exterior walls damages and falling, etc. Keep in mind that most of the old houses in Greece are bought by investors because they are renovated, refurbishment, repaired, remodeled or reforming and so on, because of the lower price of these types of homes.
Some of these problems can be seen even in 5 to 10 year old houses in Greece. In general, just as in any other countries when you look at all aspects of a property purchase in Greece, you should thoroughly and fully inspect the house in Greece. Especially old-fashioned villas or beachfront homes in Greece may be very tired due to the wet weather and the lack of proper materials used in the construction of these buildings.
You can ask the seller to provide you with an invoice or pre-invoice for repairs or rebuilding your property to help you make the decision to buy an old house in Greece. You may even mention in your contract that you will be conducting home inspections for a specific period of time, though this is not standard and we do not recommend.
Another point is that if the seller does not allow you to inspect the property, you can definitely go to another property.
Some foreign financial institutions carry out these inspections themselves before giving you mortgages for repair or renovation and will usually advise you on whether the property is worth buying.
 Hiring a land surveyor and consultant to buy a home and property in Greece will not only help you get a better buy, and he or she will inspect you best for your home or property, but also when choosing a property and buying a property Make a mistake in Greece, you can easily sue him. This is subject to the fact that he have hidden topics as your surveyor or have not provided you with accurate information.
You should always tell the hired surveyor exactly what you are looking for in Greece. Even if you need to pay extra. Surveyors are doing things like: the status of the whole building, the foundation of the building, the walls, the roof, the wooden structures of the house, the water supply, the electricity, the heating and cooling systems and possibly the pool and Jacuzzi and everything you need to know. You should receive a written report of the home situation. Including whatever may be problematic in the future. Some surveyors are experts in the field themselves.
Types of property in Greece
Greece is a diverse country. In this country you will not see just one particular type of construction or real estate. There are many spectacular urban places in Greece, from paradise to island. This diversity and beauty has made millions travel to this country every year, with thousands thinking about investing and buying property in Greece. This has led to a wide choice of types of property to buy Investors in Greece. In Greece, a variety of beautiful townhouses, Italian-style seaside homes, luxury townhouses, country houses, beachfront homes, all types of apartments and two or more floor houses, all types of villas, all types of homes and the old houses and so on are found in Greece.
Amidst all the variety of real estate in Greece, the variety of unstable islands, rural villas, sandy beaches, wonderful weather and amazing landscapes, we still see property prices in Greece lower than in many other European countries. Greece, meanwhile, is a developing country that annually demands millions for tourism. Buying a home as a second home, a vacation home or as a rental home these days has become one of the main goals of the wealthy Greeks and Greek investors. This is because of the hidden profits that exist in this type of property in Greece. Providing permanent and golden residency in Greece is another advantage that has encouraged investors to grow their homes and properties further.
Now to buy a house in Greece, it's up to you to decide. Looking for a downtown home and a place like Athens? Looking for a beach house on one of Greece's most beautiful beaches like Sporades? Or even need an ancient tower that has become a wonderful townhouse in the Peloponnese?
Would you like to live in an apartment or a villa with great amenities like a pool, Jacuzzi and playground? Are you planning to buy a holiday home in the tourist areas of Greece and rent a home at different times of the year? The variety of property in Greece is great, your hand is open and you can buy any type of property according to your taste and budget.
City flat in Athens in Greece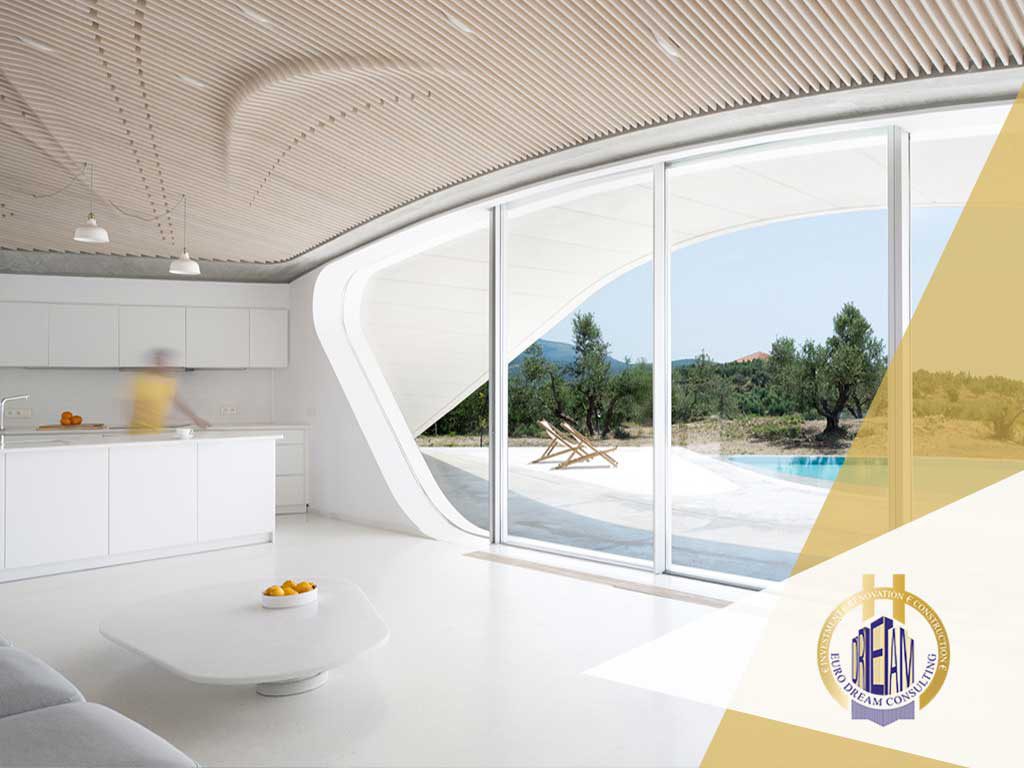 Athens is the largest city in Greece and the capital of the country. Many companies, and economic and commercial activities, are based in Athens, in Greece. Which has led many investors to pay particular attention to the city of Athens. There are a variety of buildings and apartments in Athens. In this city you can buy a luxury penthouse or buy an apartment that is made up of 5 different apartment models in Greece.
The position of the real estate in Athens has a great impact on its finished price. Access to city amenities, neighborhoods, location and proximity to specific locations in Athens will raise the price of homes and especially apartments. While you can easily find a variety of good central apartments or City flat in Athens for just under € 100,000. Like a clean and modern two bedroom apartment in Haidair. In general, city apartments in Athens are priced between € 100,000 and € 500,000 and may even be slightly higher. But for around € 150,000 it can help you to buy a beautiful and lovely city apartment in Greece with great access.
In general, living in Athens is an advantage. Athens is a safe and secure city, ranked 33rd in the world in terms of safety and security. Excellent nightlife, delicious and delectable foods, people with cultures and principles of rich life and kind and loving behavior, quiet and stress-free living etc. have made Athens more popular in recent years. Buying a home in the neighborhoods of Athens gives you a good sense of living among the locals, allowing you to live as easily as a real citizen amongst other people.
Townhouses in Greece
One of the most common types of buildings and properties in Greece are townhouses. You can find a town house in the big city centers of Greece as well as in villages and even in Greek countries. Townhouse refers to houses that have a terrace and are usually built on one floor or eventually two floors. Colored houses with sloping roofs that usually have a small garden adjacent to themselves or their courts. The townhouse may be completely independent or housed in a building complex that is a collection of several townhouses. The most spectacular views and structures of townhouses in Greece are the beautiful Italian / Venetian houses that are especially found around Greek ports and beaches such as Chania in Crete and Kerkyra in Corfu.
Many Greek investments to buy a home in Greece choose townhouse. The townhouses are independent and have a lot of charm to live. In addition, they are found everywhere in Greece.
Beach houses in Greece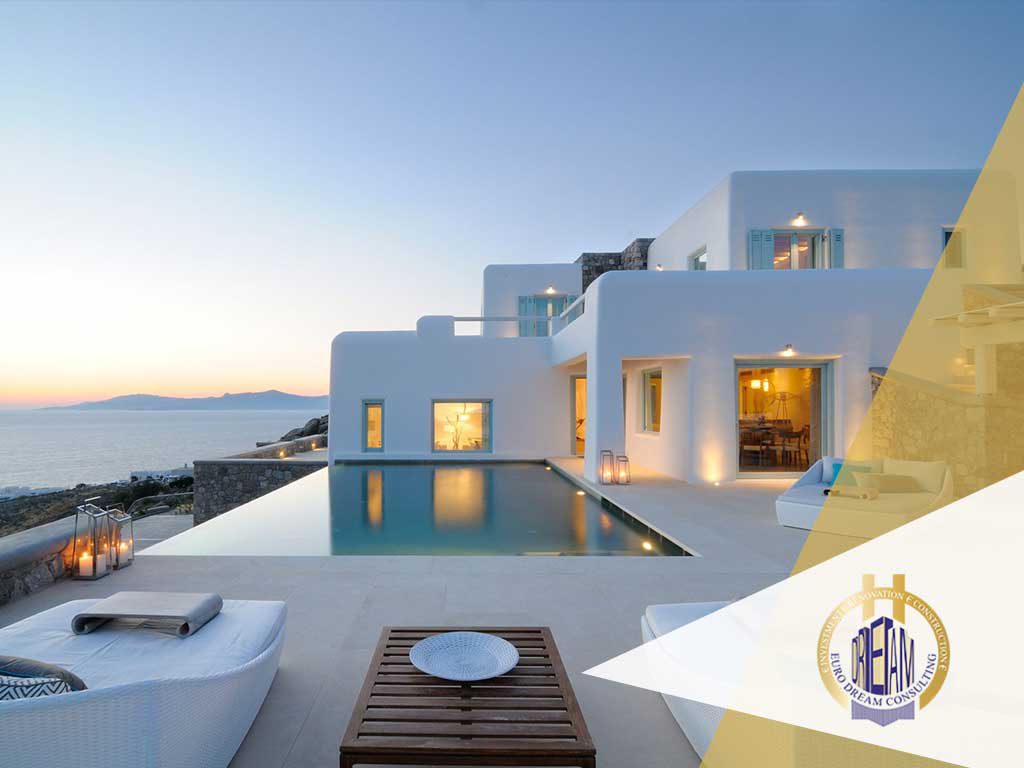 Experiencing the Mediterranean lifestyle and enjoying the great climate is one of the biggest incentives for investors to buy a home in Greece. For this reason, coastal houses in Greece are very popular with foreign property investors in Greece. Relaxing on the beach in the hot summer sun or enjoying a happy night at the beach and a variety of great seafood makes rural homes so popular. Most buyers of beachfront homes use them as a second home, vacation home or rental home. In Greece there are more than 200 beaches for living and living. Most of these beaches have beach houses built in their own style. In Greece, you can buy a coastal house for anywhere from € 100,000 to € 300,000. Seaside homes are mainly built in single storeys and may be located independently or in a seaside home complex that has a garden and public pool.
Seaside houses in Greece have different shapes and sizes. Many European investors in Greek real estate buy beach homes as holiday homes. British property buyers, for example, are looking for beachfront homes in Greece that are built in apartment style and in apartment complexes. This is because it is easy to maintain these types of houses in Greece. It has a swimming pool and garden some times and can easily rent a rustic house most of the time. It should be borne in mind, however, that most rural houses have no gardens and are mainly built in complexes with other rural houses. But the rural houses are both very affordable and close to the beach and very good weather in these areas.
Village huts or Country cottages in Greece
For many investors, choosing remote areas and buying cottages in an intact area and then repairing, renovating, refurbishing them and living in this old home is a dream come true. The best and most famous place in the world for this is Greece. In all parts of Greece and all over Greece one can easily find many properties in its villages that are in the best condition. These huts and cottages are of varying degrees of quality. Some of these huts and old houses can be repaired for just a little cost. Some will need a new roof and some will have to repair walls and structures. For this reason, some buy these cottages at low prices and then add value to the property by renovating, repairing, remodeling, refurbishing, etc. The Greece Islands are the best choice especially for renovation projects of old cottages and old houses. Important islands such as Crete, Corfu and Kalymnos have many of these types of huts.
Buying an old house in the village is a long-standing dream. The Greek government easily permits repairs and renovations of these types of homes and provides many facilities to buyers of this type of property in Greece. This will not only restore the appeal of these huts, but also add value to different areas of Greece as well as fulfill your dreams.
Buying a cottage or old house in Greece and renovating and repairing these types of homes can easily put a lot of money in your pocket, but the important thing is that you should not go to any area without consulting with experts in this area for Buy these types of cottages. Property conditions, anti-earthquake requirements in vulnerable areas, the accuracy of property documentation, the price of property and even the extent of damage to property and the need for reconstruction should all be assessed.
If you go to the rural areas of Greece alone to buy a property or a hut, do not doubt that most people in these areas or even real estate consultants in these areas will see you as wealthy outsiders and therefore Will provide unrealistic prices to you. However, having a lawyer and an acquaintance in various parts of Greece with a sufficient degree of negotiation is important for the purchase of old cottages and houses in Greece.
The biggest benefit of rebuilding old cottages and houses in Greece is that investors can use these homes as holiday homes and rent them out when they are not in Greece. For this reason, the wisdom of the old cottage or house in Greece becomes more important. People who are looking for a vacation home or a rental home, preferably buying their own cottage or house in an area that has the most tourists and is in a great location. Choosing the wrong place to buy a hut in Greece will make your property value change less throughout the year and less likely to be rented. Some do this by buying homes for the holidays in places where the only chance is to rent a house in the summer. While a little more careful, older homes can be bought in areas in Greece that can be rented all year round. Of course, if you plan on buying the old house, and renovating it, to sell it at a higher price after renovating, you better move to the center. Going home for this purpose can be valuable in beautiful places like Corfu.
 Buy various types of villas in Greece
Another type of property that is very popular in Greece is the purchase of a villa in Greece, which is especially popular among people who immigrate to Greece. Although most villas are built by the sea, you do not necessarily need to go to the seaside to buy a villa in Greece. You can buy a variety of villas in Greece in most parts of Greece. Villas are found in cities, coastal areas, rural areas and even cities in Greece.
People are usually looking to buy a villa in Greece, who are planning to buy a property larger than a typical house, townhouse or an apartment in Greece.
Buying a villa in Greece, of course, requires a lot of capital, and the villa is often regarded as expensive in Greece.
Villas in Greece are homes that have one floor in general and have a garden and a pool. Buying a villa in Greece can range from a minimum price of 250,000 euros to over 800,000 euros or even 1 million euros.
The market for sale of villas in Greece is very hot right now, and many people from all over the world come to Greece to buy villas. Perhaps because of the good weather, the hospitable and lovely people and the expanding Greek real estate.
Buy property for rent in Greece (Buy-to-let)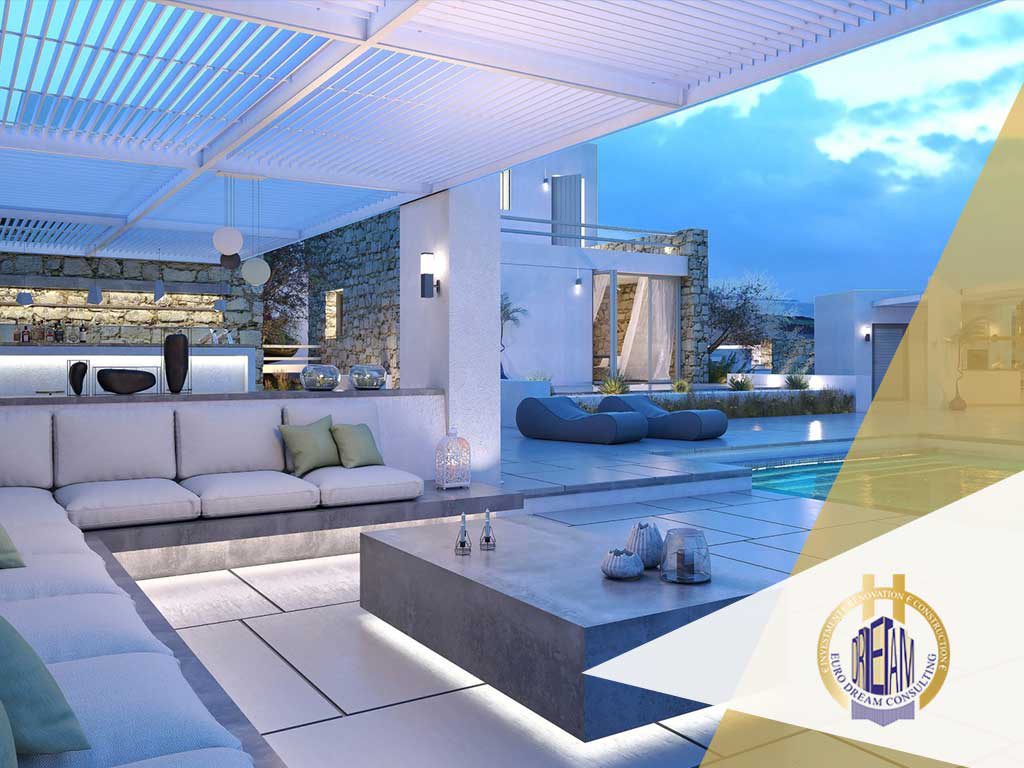 Another way of investing in Greek real estate that benefits investors is buying property for rent, especially in large metropolitan areas. There is a large population living in these areas, and not everyone, especially the young, can afford to buy a home to start their adult life. Especially in cities like Athens and Thessaloniki, many homeowners consider renting them at affordable prices and earning a decent income from renting property in Greece. We might think of this as an investment and money making in Greece as well as a simple investment in buying property in Greece.
Of course, it should be explained that there are more rules for homes that are purchased for rent. For example, property tax must also be paid or you need to obtain a permit from the National Tourism Organization in Greece called the EOT (Elinko Organismo Tourismo) license.
You also need to have some conditions for the home you are renting. However, renting a home in Greece requires certain principles, such as having private access or having the minimum requirements for renting a property in Greece.
So if you are planning to buy a home in Greece in order to rent a home and make money this way, first read its rules and regulations and decide later. You should also bear in mind that under the EOT license, you may be subject to heavy fines if certain conditions are not met.
Italianate villas
One of the most common types of homes you can consider for buying property in Greece is buying Italian style homes. In fact, most of the villas in the western Greek islands, such as Corfu, are Italian-style villas built in the style of Italian villas in places like Venice, Italy. These villas have a stylish and extraordinarily beautiful appearance and have been popularized by Greek and Venetian sailors and merchants in Greece, making this style of homes popular in Greece.
Many people who invest in Greek real estate today buy Italian villas in Greece because of the unique features of these types of homes and their exemplary beauty, making them small hotels or small hotels. They become ebb. Some even buy these buildings for commercial purposes in Greece. It is important to note that these types of Italian-style buildings are demanding and available at different prices in most of western Greece.
Whitewashed village homes
Greece's iconic, ordinary, white houses are attractive to many foreigner real estate investor in Greece. Often found in Cyclades and Dodecanese, these white rural homes look attractive and are found at affordable prices in Greece. If you are buying property in Greece from Asian countries, buying one of these rural white houses might be the right choice for you.
Especially in the Cyclades and Dodecanese islands, because of their proximity to ancient Asia Minor, these types of homes often have the characteristics of specific Middle Eastern homes.
Generally, rural white houses are white exterior houses with dome ceilings and their doors and balconies are bright and colorful. Many of these houses were built before modern equipment to cool homes. For this reason, most of these Greek white houses have natural cooling. They rent a small window to allow them to get less sun and cooler air. Most of these houses do not have gardens or pools and are built in the community of other homes. But they are mainly designed to give a stunning view of the Greek coast.
Sturdy stone farmhouses
If you are looking to buy a rural house in Greece, it is likely that the rural stone houses are your choice. These charming houses are made of local stone and wood. These stone rural houses are found both in villages and in some urban and central areas. The construction of these houses is very robust and sturdy and built to local standards. Usually people who buy rural stone houses pay the least for their reconstruction and repair.
One of the great benefits of buying a stone house or buy stone farmhouses in Greece is that most of these houses are built in areas where there are no high-rise homes and skyscrapers, so the view of the building around, such as the Greek beachfront, it is easily visible from these houses.
Buy Modern villa in Greece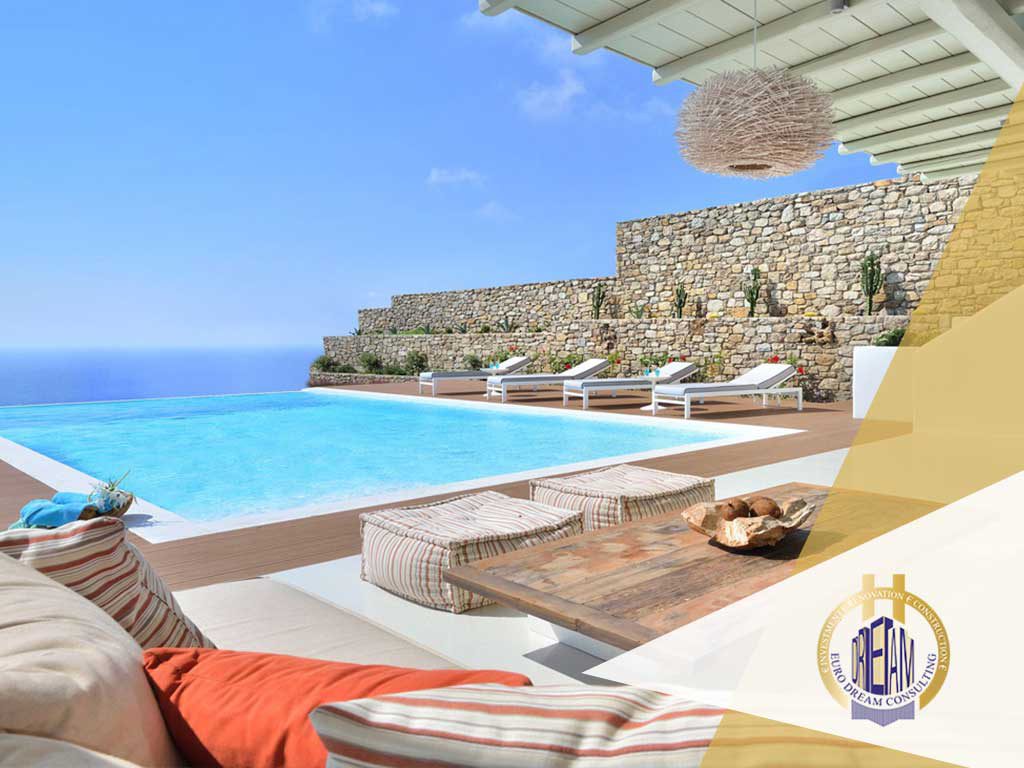 We said that buying a villa in Greece is very popular with foreign investors. But if you plan to invest more in Greece, you can go for modern villas in Greece. Modern villas in Greece are called villas, often designed in the style of advanced Mediterranean villas, mainly made in Italy and Spain.
The villas are built in a predominantly white, luxurious pool with Jacuzzi and gym, tiled floors and red and green roofs and gardens. Unlike most Greece villas that use small windows, Modern Greek villas have air-conditioners, which allow them to use large, bright windows and bring in a lot of natural light into the villa. Buy modern villa in Greece is a major investment in Greek real estate. These types of villas are commonly found in the more developed and popular Greek islands.
Buying a hotel or tourist commercial property in Greece
For many investors, the purpose of investing in Greek real estate is not to get a Greek residency or to live in Greece alone. In fact, buying real estate in Greece, given the growth of tourism in the country, can be defined as a new career and a new or different business life for investors.
If you are the kind of person you intend to buy in Greece Invest more money and more profits, we suggest buying a hotel or tourist commercial property. Remember that in recent years, Greece has broken the tourist growth rate, and many tourists are looking for places to rent or for leisure. Buying a hotel or building a tourist building for the purpose of recreation or relaxation of travelers is an incredible and money-making idea in Greece. There are many websites and real estate brokers and consultants in Greece that work on investing in commercial real estate in Greece.
Today there are more than 700,000 properties in Greece intended for sale to investors in commercial real estate.
 Of course, all of these commercial real estate are ready and need only be handed over to the buyer of property in Greece to generate income.
However, we recommend that you consult a reputable legal consultant to start such businesses, which will require a large investment in commercial real estate in Greece. Having more than 600 islands, and 200 residential islands, more tourist presence in Greece, investment security in Greece, high interest rates and high rental rates, lack of tourism and leisure facilities in Greece and most importantly low Property prices in Greece are the best opportunity to invest in Greek commercial real estate and make stunning income.
Renovations of old property in Greece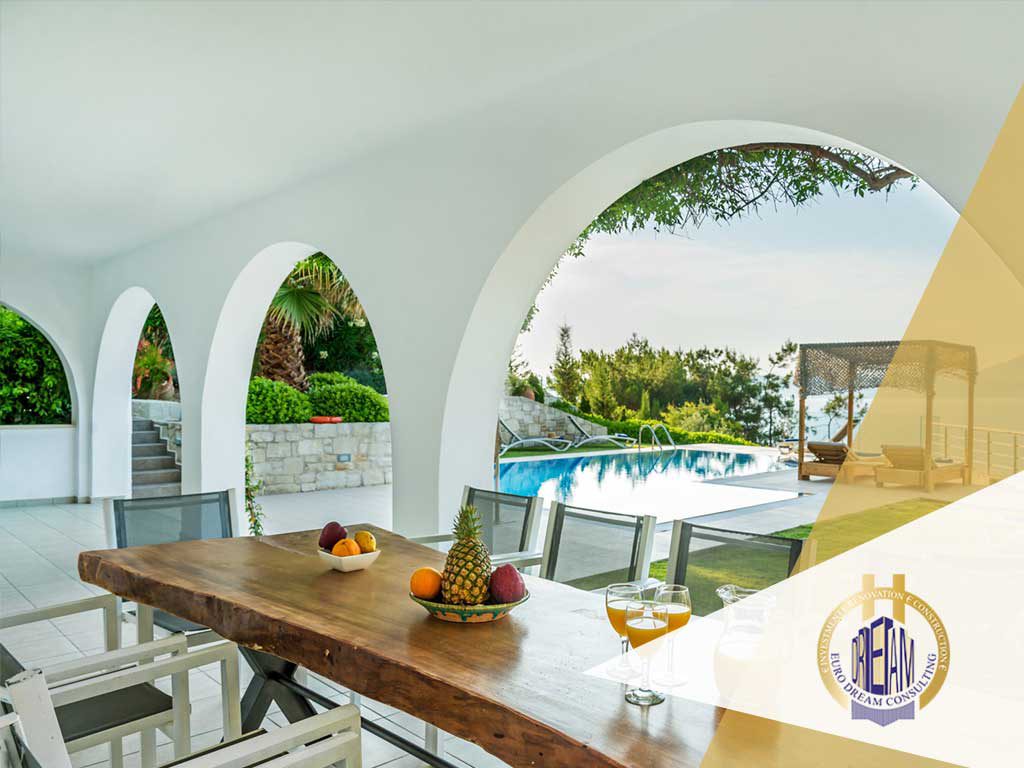 Staying in a rural home in Greece, in the vicinity of shops and bars, in the heart of indigenous and culturally specific Greek people and having a local-style lifestyle is one of the many ideas of foreign investors in Greece. There are many old houses in Greece. Almost all areas of Greece, from major city centers to villages and beaches, can find all kinds of old houses at affordable prices. Homes that were abandoned some years ago by the Greeks for better homes, apartments, or exits.
Therefore, this is a great opportunity to invest in Greek property for foreigners. Buying these old homes for cheap, and renovating, repairing, reforming, remodeling or refurbishing them is a pure idea of ​​having the best home in Greece.
Social developments in Greece in recent years have made the potential for foreigners more attractive to buy a property. For example, buying a former windmill in the Cyclades or a large green farm in Corfu and even buying an old monastery in the main cities of Greece is not far from possible.
Most of the old houses in Greece are built according to Northern European standards. This means that these homes and properties have all the necessary amenities including a kitchen, a bathroom, and a toilet and so on, and in fact have no shortages. This makes it easier for people who want to rebuild houses because they do not have to spend a lot of money to rebuild or get permission to build in Greece. Many of the older homes in Greece may be built in a scattered geographic area, or may be in urban areas with more difficult access.
It is important to choose these types of homes for reconstruction. We recommend that you use specialist consultants to choose and buy an old house in Greece.
Remember that rebuilding and repairing your home in Greece also requires a license. But according to government policy for the development of Greece, these permits are simply and cheaply provided to investors, and investors can also use government and bank assistance to rebuild real estate.
Determine Property Properties, Before Buying Property in Greece
Before buying a property in Greece, it is best to determine the boundaries of the land, check its fences, measure its routes and accesses, and consider any other conditions that may affect the land. If your land boundary is not set, ask the broker or dealer to set the boundary before making a transaction. In rural homes the land may have different size so you can negotiate the dimensions of the land you need. If the property is larger and is actually part of another, be sure to hire a surveyor to Determine new property conditions for you.
 You should also hire an expert lawyer to negotiate with the municipality to determine the conditions of the land, whether the land may be owned by another entity or person, or may be considered government property and green space.
Another point is the land that is full of trees. It may be the owner of another person's tree or some partner. You should also buy trees and agree with them if the owners are not sellers. These trees may be on the way to your access to the property.
The Greek Environmental Agency may not allow you to cut down trees. Especially if your property is near the forest you should avoid cutting down trees in these areas without environmental permits. Lighting fires in these areas may also be penalized.
If you buy property in Greece by the sea, First check that there is a possibility of building the land and that the building permit will be issued for this property. Offshore construction permits are difficult to obtain. If the property you want to buy is 500 meters or more above the shoreline, you should check the construction regulations for this property. These types of buildings have to be constructed with legal requirements such as adjustments for rooms, windows, access roads and so on.
Off-plan buying property in Greece
How to buy Off-plan or Semi-finished Greece real estate?
You can pay for the various stages of a property purchase, such as a property that has not yet been completed and partially constructed.
Step-by-step payments vary considerably and may include:
10% deposit and the rest upon completion
10% deposit and 3 payment stages during construction
The final payment is usually not paid 5% for six months as building insurance or any possible defect. Some builders may request a deposit at various stages of construction.
In semi-finished property Contracts in Greece should mention to some subjects such as: timeline for completion of the building, stages of payment, completion of each section and possible penalties for delays in construction, warranties for construction, details of builder's insurance, copy of the building The required technical specifications and designs are seen and signed by both parties to ensure that the demands of both parties are met.
This contract of sale of property in Greece should also include a provision that allows you to hold at least 5% of the purchase price of the property as a guarantee for up to six months, in order to resolve any defects or problems that may arise. . Completion of each step must be approved by an architect or lawyer. Your payments must also be made on time. In many of these types of sales property in Greece, you can sell or give over your property at any stage.
Very important point for buying a semi-finished house in Greece
The architect, builder, or seller must provide you with a Guarantee of completion, so that your capital is protected and you are confident of your investment. Therefore, if this guarantee is not provided you will refuse to pay or purchase the property.
Property transfer document in Greece
What are the conditions for a property transfer in Greece?
The property transfer document is actually the legal form for the property purchase and sale that must be presented to the buyer at the time of transfer and completion of the purchase process.
In Greece, many aspects of property buying and selling, transfer of property, contracts, signatures of witnesses and so on are done in notaries. Notary offices are under the direct supervision of the government and one of their important tasks is to ensure that taxes on government are paid in every civil transfer.
Note that notaries will not be responsible for any information provided in the contract or for the protection of your property and capital, and their task is only to formalize the contracts.
Therefore, you should hire a lawyer before finalizing the property purchase agreement in Greece. Your lawyer should do the following for you:
Confirmation that the property is owned by the seller or that he is allowed to sell the property. Note that all landowners must agree to sell land when there are multiple owners. You will often find this position in Greece. If the property has no document or is not registered, be very careful in buying it. Transfer of property should not occur until a separate document is issued for the property. This will sometimes take up to two years. So make the necessary time and necessary investigations for the property and its documents.
Ensure that the trees in the property belong to the property owner or have other owners. If the owner of the trees in the land, someone else will find him.
Ensure that there are no tenants for the property. You must buy the property without any obligation to anyone else.
Check that the property has not previously been sold in advance.
Ensure that the property is not in a position to cause problems later on, such as in a way of road or road progressing, rail construction and rail development, commercial passages, airports, and so on.
Check that the property has a certain boundary and that the property is specified. Where possible, a map of the surrounding land and the main land should be prepared. It is also advisable to make a copy of the property's location before registering the property.
Ensure that building permits and planning permits such as construction permits, utilities, sewer connections, etc. are real and that the property is constructed in accordance with existing permits and plans.
Checking that the property in question does not meet the legal problems or condemning and legal requirements for buying a property in Greece. For example, no bank mortgage and Or the property document is not mortgaged, its social costs unpaid, electricity and gas costs unpaid, and so on. Because all these things will be up to the property owner. Note that if you purchase a property that is tax-exempt or has certain debt problems, you are required to pay these costs.
Finding property tax value
Ensure the accuracy of the property and the accuracy of the property document
Many real estate agents or brokers in Greece will do this for you and provide the information you need to a lawyer. However, the lawyer must also check the accuracy of the information. Lawyer fees depend on whether your lawyer is local, foreign, or Iranian, or a combination of the two.
Lawyer rights in Greece are usually 1% of property tax value. Check with him and agree with him before hiring a lawyer.
Notary Duties in Greece
In Greece, the final real estate purchase contract is prepared by a notary. These offices are responsible for ensuring the correctness of the property purchase in Greece, and the final purchase price is also paid to the property seller in Greece. These notaries are also responsible for identifying the parties to the transaction, needing witnesses to the parties to the contract, collecting documents, receiving sales tax, registering the land with the CRA. And determine and receive any other costs and taxes that may be required for the property transaction in Greece.
Keep in mind that the notary operates under the supervision of the government and does not take into account the interests of the buyer or seller of the property, and it is very unlikely that they would point out any problems with the property contract. Provide or give information to the buyer of property in Greece, even if it is foreign. However, some of them for ethical reasons or if they see something that is not relevant to Greek law and may have consequences, point to this problems.
All foreign property buyers in Greece should not attempt to trade land in Greece without consulting a lawyer. Do not sign anything at all before consulting on the terms of the deal and the type of contract, and do not pay. Your lawyer should even make sure that the notary work is done properly and that the notary is legal. Therefore having a lawyer is very important. Another point is that you should not trust the lawyers that the property seller in Greece uses or offers, because in any case, these lawyers will have the interests of the seller.
How to Buy a House in Greece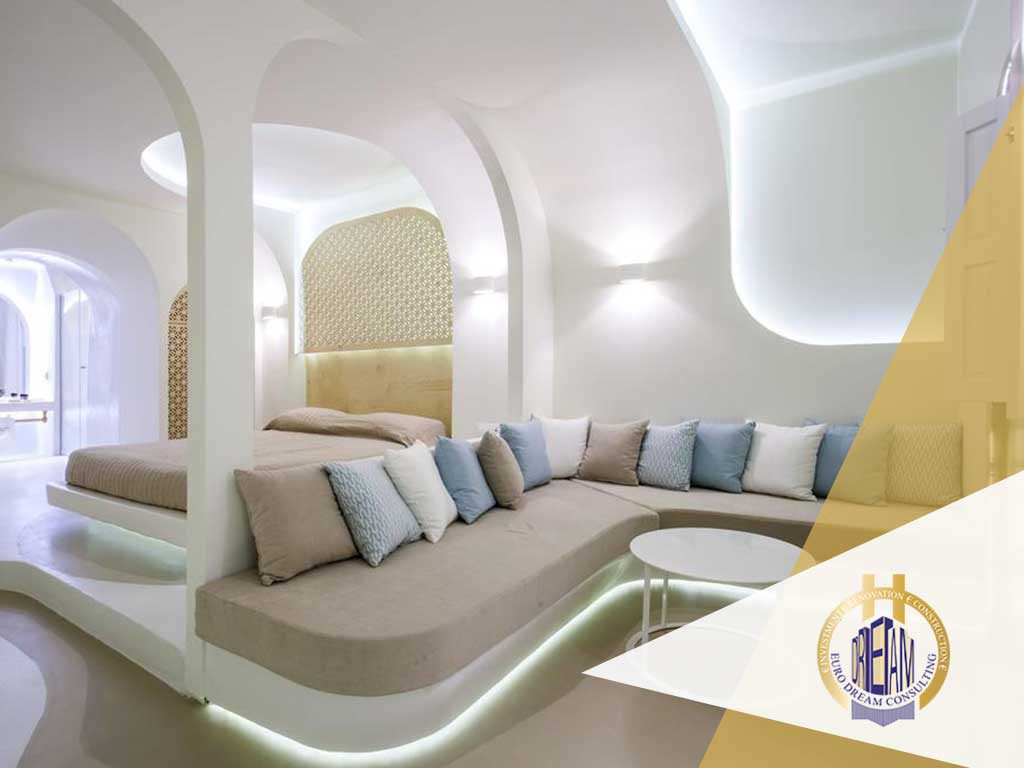 Step by Step by Buying House in Greece
The first stage of a home purchase after due diligence is usually the signing of a preliminary contract that most of the preliminary agreements include. However, this contract must also be signed and even completed with the advisor's opinion.
Notaries can arrange this initial purchase property contract in Greece, but this is unusual. At times in Greece you may be able to sign a final property purchase contract in Greece without having an initial contract with a notary. So it's up to you to see if you need an early contract to pay the deposit. Again, we emphasize that before signing any property agreement and contract in Greece, whether an initial property purchase agreement or a final property purchase contract in Greece, be sure to consult a trusted lawyer. The reason is that this lawyer should consider your interests in this contract.
The property purchase contract in Greece must be clearly stated, with all the necessary permissions. Keep in mind that real estate developers, renovators and consultants and real estate agents in Greece often have contracts that are designed solely to protect their own interests. For this reason, your lawyer should also review these contracts. Your lawyer should also have adequate supervision to obtain the necessary permits.
Note that contracts that are signed with a low deposit and have to be paid for the next 30 days and that your capital is going to be imported from other countries to Greece are usually not feasible because the time of entry of capital into Greece is much longer, That is why only you have lost your initial deposit.
Deposit to buy property in Greece
When signing a real estate purchase contract in Greece, the buyer must pay a deposit. If you are signing an off-plan contract you must usually pay between 5% and 10% of the cost and if you have a final contract and you have signed the final contract you will have to pay the rest.
Deposits are usually paid only in harsh conditions, such as when there is no mortgage to buy. If you do not pay the installments or the final price of the property in Greece on time, your deposit may be lost. If you withdraw from the scheme after you have completed all of the terms and conditions, or if you opt out of the transaction, you will not only lose your deposit but you may be liable to pay the fee and commission.
The property contract in Greece can be canceled by both parties, objectively the buyer of the property and the seller of the property. If the property buyer in Greece cancels the transaction, he may lose his deposit, or may be fined for his deposit. But if the seller of the property discourages the sale of the property in Greece, and intends to cancel the transaction, he must double the payment or return the deposit to the buyer.
Note:
When dealing with real estate in Greece, always read carefully the terms of withdrawal and exiting of the contract. Note that most advisors and real estate agents in Greece do not have the right to receive deposits from clients and deposits must always be deposited in a separate account. So it is not wise at all to deposit your deposit with an agent or real estate agent.
Tax filing number for property purchase in Greece
All real estate investors and property buyers in Greece are required to obtain a tax filing number (AFM) in Greece. This number must be obtained from your local tax office. The process to get this number usually takes several days. You can apply for your tax filing number in Greece by your lawyer or agent. You will be asked for this number when completing information at the Greek Notaries and will be listed in the final contract. This number is also required if you are eligible for a loan.
Opening a bank account number to buy property in Greece
You must have a financial source called a bank account in one of your Greek banks to make any transaction or invest in Greece. This bank account should be used to pay for all your expenses. If you need to raise funds outside of Greece and need money to enter the country, you must make a transfer to your Greek bank account.
Term and Conditions to Consider When Buying a Property in Greece
The property contract, whether for the buy of new property in Greece or for sale of property in Greece, contains clauses that must be in place to ensure the validity of the contract. These terms are usually used to control the terms of the transaction between the buyer and the seller of the property.
 However, usually what is agreed between the buyer and the seller can be included in the contract. If none of the terms of the buyer or seller are found in the contract, the contract can be canceled and a deposit must be refunded without deficit.
However, if you buy a property in Greece that is in a listing agreement that you did not comply with, it may result in a loss of your capital or deposit.
When Buying a Home in Greece if you are purchasing a furnished property, be sure to include this in the contract. It is wise to include a list of home items in the contract (attached). Also, apply for any extensions and attachments you may need in the contract that relate to the property without fear. You need to make initial arrangements with your lawyer and coordinate what is needed.
Most of the issues and conditions that should be addressed in a property purchase contract in Greece, and which can affect the fate of a property, are:
Having a mortgage and loan terms
Obtain planning and licensing to build, renovate, repair, change models or remodeling, refurbishment and so on.
Obtaining special permits from local authorities. For cases where buying a property requires special permission.
Lack of residence permit
Confirmation of residential area and property location
Plan to build anything related to the property. For example, building a road, street and rail or anything that affects the property.
Rights related to governmental and non-governmental organizations and factories.
Dependency of the property on other real estate
Conditions of inspection of the property before and after purchase
Completion of property purchase in Greece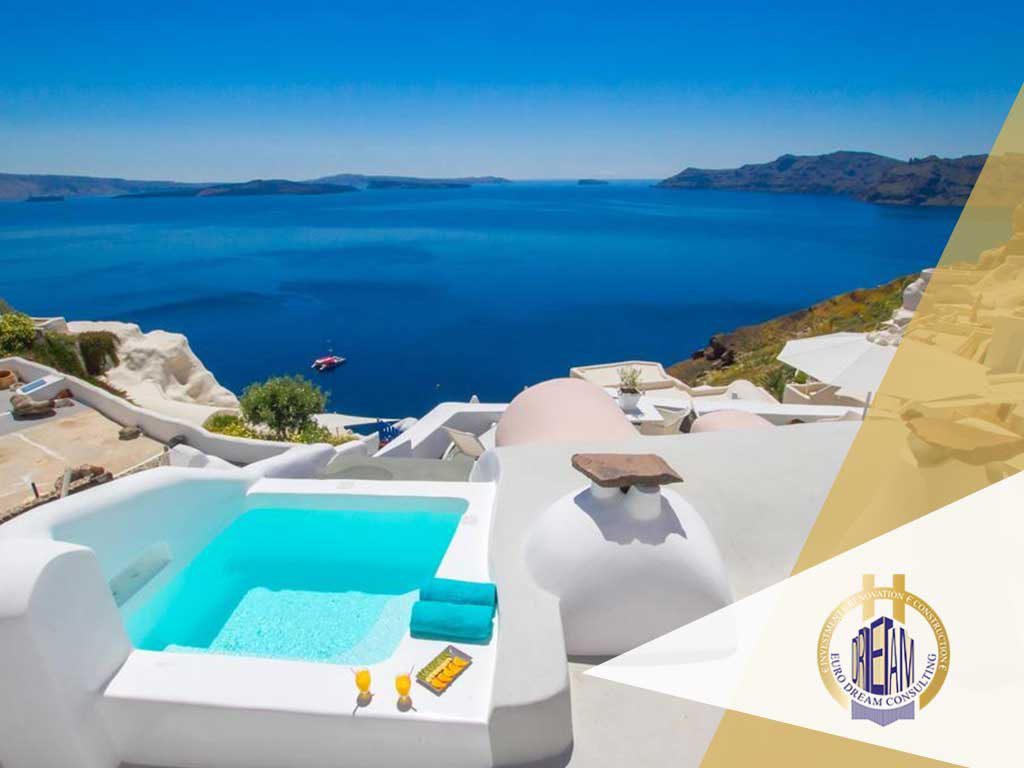 The final stage of buying a property in Greece
Completion and closing of a purchase contract is done by the signing of the final contract by the buyer and seller and payment of the related costs. This contract will usually end one to two months after the initial contract and in accordance with the same contract as set forth in this initial contract. This may vary depending on the circumstances.
Note that if a property has multiple owners or inheritors, buying property in Greece will usually take several months, and at this point your lawyer will need to add a form to your contract.
Completion of a home purchase contract in Greece includes final signatures, transfer of legal ownership of property, payment of contract costs, as well as other payments such as notary fees, attorneys, taxes and municipal and so on.
 When the final contract for buying home in Greece is completed and referred to the notary, the office will contact you to pay for the charges. At this stage, the mortgage and other conditions, if any, will be determined. And you can deposit money from your deposit account or directly.
  You also have to pay the taxes that the notary offices themselves count for you. The final contract is then prepared by the notary. If this is not the case, you should request that your contract be prepared sooner. At this point, your lawyer will need to work with you to complete the contract.
Once the property is finalized in Greece, you can apply for permits in order to construction, home repairs, renovations, refurbishment and remodeling or reforming the house, or any other changes to the property.
Final Survey on Buying a Property in Greece
Contract Property Purchase Once finalized, a change in the contract will be difficult, except for legal reasons that are effective in the contract. So at the time of the initial contract until the final contract you will have a good opportunity to check the ground conditions. It may also be that what you have agreed to in the initial contract is not included in the final contract, so you should check again when completing the contract.
Before signing a final property purchase agreement in Greece, check again to ensure that there is no shortage or damage to the house, such as a storm, flood or previous tenant or landlord damage to the property itself. If you have a lawyer or are using a legal representative, he or she should be present with you. You should also check the Home Furnishings, especially if you are purchasing a furnished home in Greece with all the amenities and furnishings. The previous tenant or landlord may have taken or relocated some things.
If you are purchasing a furnished home in Greece, you will need to have a list of home furnishings you have agreed to, and scrutinize them carefully. For example, carpets, sofas, curtains, kitchen utensils, etc. should be re-examined. Even check plants and trees well.
If you notice any damage, deficiencies, or problems at home, you should take notes. You can claim or deduct this amount in the final amount. In this case, professional lawyers advise you to delay signing the final contract until the problem is resolved. Until the conditions are met in your favor or completely, and your consent is obtained.
Tip:
If you are not fully satisfied, you may want to avoid trading and buying property in Greece, as you may face many difficulties in obtaining compensation that will aggravate this discontent.
In that case, your lawyer should make a full refund of the deposit and other funds that you have paid.
Signing a property purchase agreement in Greece
Finalizing the sale property by signing the final contract is done at the notary. Your lawyer or legal counsel should thoroughly review the contract before the final signature, provided that the conditions in the original contract are fully met. The notary will also review the documents you have provided, such as your tax filing number and your tax payment documents.
Usually, buying a property in Greece requires that both parties be present and agree to the terms of the transaction, with witnesses and their legal advisers and lawyers present. Note that the lawyer can also make the transaction on your behalf. In the meantime, if the buyer of land in Greece is a woman, he can give his lawyer to his husband, or, conversely, if the buyer of the property in Greece is a man, he can give his wife.
The notary reads the contract carefully and then both parties must sign each contract with their witnesses. This contract is often in Greek, so if you have little or no knowledge of Greek, be sure to bring in a Greek-speaking Greek lawyer.
Power of Attorney to Buy Property in Greece
If for any reason you are unable to follow the process of buying a property in Greece yourself, or you cannot personally make the final purchase of the property in Greece yourself, you may want to use a lawyer to do your job. A power of attorney document can be as powerful or limited as you would like, but it should nevertheless allow your lawyer to do different things behalf of you, such as finding a tax number and doing business with a notary.
A power of attorney to buy property in Greece can be done in two ways: You choose a lawyer who is approved in Greece, or you choose a specialist lawyer in your own country. These lawyers must have a stamp of approved power of attorney. The lawyer's legal document should be translated into Greek if it is Iranian.
Note: If you want to use a Greek lawyer first, be sure of its credibility, and second, be sure that what you are signing is exactly what you have agreed to.
Payment for the purchase of property in Greece
The financial source used to buy property in Greece must be in a bank account in Greece itself, or deposited into an account at a Greek bank using an official imported money document.
The equilibrium price of the property (such as deposits or mortgage deficits) should be regulated by a bank draft or bank transfer. For many people banking drafts are the easiest way. This document is approved by all notaries.
If the seller and the buyer are of the same nationality, they can accept payment in accordance with an agreement with any currency, and even money can be transferred and payed abroad. However, the final purchase price of the property in Greece must be calculated in Greek currency and all taxes and fees will be charged in the same currency and the money should deposit on one Greece Banks. The reason that property prices must be quoted in Greek currency, the euro, which is a common European currency, is first of all the existence of property in Greece and secondly the calculation of different costs for registering property with the calculated tax value of land.
Under the property contract, both the seller and the buyer will make the final signature and agree to the payment. If the purchase is to be paid in another country, the lawyer must confirm that the money has been deposited.
Upon payment of the money and receipt of the deposit, the notary will deliver a copy of the document to the buyer of the property in Greece by setting up the property document and henceforth own the property. You will also be given a home key document when submitting.
Land registration with the Greek Property and Registration Agency
After signing the final contract, it is time to register the land with the Greek Property and Registration Agency. At this point, the new owner's name must be registered with the organization for the property. Submitting new land or property documents should be very urgent. This is the notary's job.
 This process may take some time. But only when the land is registered with the Greek Real Estate Agency will you be the real and legal owner of the property.
The duties of the Greek Property and Registration Agency for the buy and sell property in Greece
Until a few years ago, there was no centralized and coordinated system of land registration in Greece, and real estate transactions in Greece were done manually in a small local register.
When buying property in Greece, transactions were often done in the name of individuals rather than organizations, and the land registration process took months. In order to rectify these conditions in accordance with EU directives in 1995, Greece set up a property and registration agency. The organization registered all Greek real estate and centralized information, and each piece of land and property was registered in the name of an individual with a reference and tracking number. This led to higher rates of property registration as well as greater accuracy and certainty in transactions. The Greek Property and Records Agency records all property changes and developments by creating a centralized and coordinated system.
Therefore, after purchasing a property in Greece, the notary will set up the property contract, sending it to Greece property and registration agency for registration of property and documents to complete the process of transferring the property to your name and registering the property in your name.
Rental Property in Greece
Introduction to property ownership in Greece
Many people who buy property in Greece want to own property and even if they buy it for the holiday homes they want to own it independently and all of the costs and income associated with it Be themselves.
People who rent property in Greece for a week or two or a month may have to pay more than the current and ordinary costs in Greece. Many homes that are rented for summer and seasonal or as a vacation home are often vacant and no one uses them because of the short summer time and the competition for rental and property use is high.
Note that when you sell a property in Greece you do not need to tell the realtor how much your income is and whether you can pay for the mortgage.
Seasons for rent home in Greece is vary from region to region. In most of the islands from May to October, when flights are more permitted to fly to these islands, demand for rental property in these areas is high and peak demand for rental homes in Greece. The holiday season in Athens and its neighboring cities is longer and usually lasts up to 30 weeks. However, you are unlikely to have a tenant for your property all this time; eventually you will have to account for half this time and budget for half or less.
Note that the property rental market in Greece is good, but as much as in developed countries such as France, Spain and Portugal, you can't count on the rental income in Greece. This is especially important for people who are buying a property in Greece as a vacation home for the purpose of renting a second home and earning a mortgage in Greece and are considering repaying their loan installments.
Laws and regulations for renting property in Greece
How to get a license to rent a property in Greece?
If you wish to rent your property in Greece to tourists and travelers, you must obtain a permit from the Greek National Tourism Organization (EOT) in accordance with Greek law. It has offices in all Greek cities, Greek islands and some small towns and even in countries such as England.
Note that getting a property rental license in Greece requires a lengthy administrative process, is expensive and will take you a long time. In the meantime, the license has been suspended for some Greek cities with high rental properties and a saturated market.
Tip: If you are looking to rent a property in Greece Before signing a property purchase agreement in Greece, first go to the National Tourist Agency of Greece and make sure you can get permission or license to rent a property in Greece.
Licensing conditions vary depending on the area and type of property, etc. (whether it is a villa or apartment, townhouse orbeach house, parking or not, breakfast and accommodation). But in general it includes the following.
For an applicant to rent a property in Greece:
No criminal record (this certificate can be requested from your own police or the Greek police)
Completed application form
Bill of health
The last income tax paid
Notice of intention to rent the property
For the property you are looking to rent: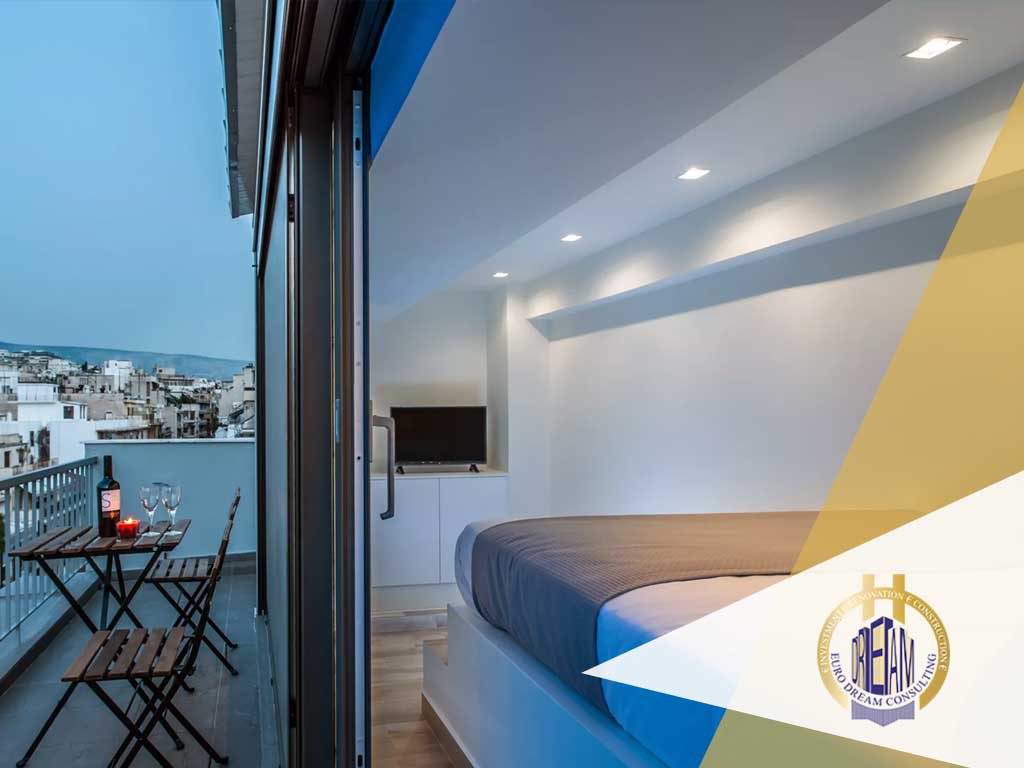 Certificate issued by a qualified architect or architectural firm that demonstrates the proper quality of the plumbing and sanitation of the building in accordance with the building requirements.
Certificate of Environmental Inspection of Property: This is done by a real estate agent or real estate consultant or an architect and determines whether the property and its equipment are suitable for rent. The inspection costs up to 1,500 euros.
Firefighting Organization Certificate: This certificate indicates that there are appropriate solutions to prevent possible fires such as emergency exits, fire extinguishers and first aid kits etc. in the building. This requires annual inspection.
Original and a copy of the Planning and Construction Permit in Greece
Document showing that local taxes have been paid to date
Offer a lease or pre-contract
Certificate of a construction company or an architect in order to confirm the condition and strength of the earthquake.
Note: If your property has a pool in Greece, there are some standards and regulations in some areas for the pool.
Many foreigners use the services of a law firm in their own country to obtain a license. A process that is much simpler and at the same time cheaper. Even if you are fluent in Greek, Greek laws and regulations require expertise. A reputable law firm in your own country can do this for you and as your legal representative, depending on the connections it has. In addition, after obtaining a rental permit in Greece, the license must be renewed annually. It costs around 100 euros.
Some Greek local real estate advisers offer foreigners to rent out their property without permission. You should keep in mind that even if many have done so, and have no problems, it is still illegal, and it may have consequences for you and your property. You may also be confronted with the claims of some real estate consultants to obtain a Greek rental license, which again because they do not have a power of attorney on your part, is not feasible for them and must have a lawyer with a legal and credit standing to do so.
Contracts and taxes for renting property in Greece
What you need to know about property rental contracts and taxes in Greece
Most people who spend their holidays in a real estate in Greece face a simple agreement form with details such as property details, customer name, date of arrival and date of departure.
However, if you are renting a property in Greece and renting it on a regular basis, you should contact your lawyer in the country or abroad and ask for guarantees for renting the property. Renting property in Greece to non-Greek and indigenous people requires a contract in English and preferably a few more official languages.
Although Greek law on rental property in Greece is on the side of the landlord, you should keep in mind that a short-term tenant may take several months to evict the tenant if he or she does not want to evict after the contract expires.
It is also important to note that under Greek law if you rent a property in Greece without obtaining a lease, it is as if you have signed a contract with your tenant even if there is no contract.
Taxes for renting property in Greece
If you intend to rent a property in Greece or sell your property in Greece or comply with any of the following conditions, you must notify the local tax office:
An official tax must be paid for any type of
You must report your annual rental income to the tax office, which may result in you having to pay a different tax after review.
In addition to your property tax you must pay your annual income tax according to your income type and amount. For example, taxes for a first class apartment in Greece are around € 200 and a first class villa in Greece for about € 300 a year, which changes every year.
You must pay 3.6% of your rent per month as a tax.
Declaring a rental property income can be complicated, especially as property laws and regulations in Greece change periodically. It is therefore advisable to use the services of a reputable law firm.
Rental rates in Greece
How much is the rental rate in Greece and how can it be increased?
Rental rates largely depend on the area of the property, the season, the size of the property, and ultimately the quality and equipment of the property.
An average apartment or town house in Greece, located in a medium size area, can cost between 300 and 600 euros per week depending on the season and the facilities and quality of the property. But, for example, a luxury villa in Greece, with a popular and good area with a pool and accommodation for 8 to 12 people, will cost between € 1,000 and € 3,000 a week in busy seasons. January, August and the first two weeks of September are the best seasons for tourists in Greece, and these seasons are the most popular seasons. For this reason, these seasons usually add up to 30% to the cost of renting in Greece.
In the lower tier are the seasons where the tourist still performs well in Greece and is called the middle seasons of tourism. The middle seasons are usually June, late September and October (sometimes Easter days, Christmas). During these periods, rentals are usually about 25% cheaper than the popular seasons of Greek tourism. Rental rates range from 75 to 150 euros per week during the winter. The cost is for a 2 bedroom apartment and may be subject to additional changes in poor conditions.
Note that this figure also includes electricity, water, washing and so on. In winter, however, these costs may be calculated separately in some homes and estates.
Increase in rental income in Greece
In Greece, the rental income from the property has grown in popular seasons, and the boom in Greece can easily be increased by providing tourism facilities and bids to tourists. You can share these bids and facilities with tours and tourism organizations, and by paying a percentage of their interest, they will get more advertising and customers.
Bids and facilities you can offer to increase your income from renting a property in Greece include:
Expect summer activities like golf, tennis, biking, hiking and yoga for your tenants.
Prepare special foods, cuisine, top-notch drinks, and more.
Provide them with equipment or supplies for handicrafts, paintings, photographs, etc.
You don't have to do all this yourself. Just ask for help from professionals or organizations that do these things and outsource them.
Prices and costs for renting a property in Greece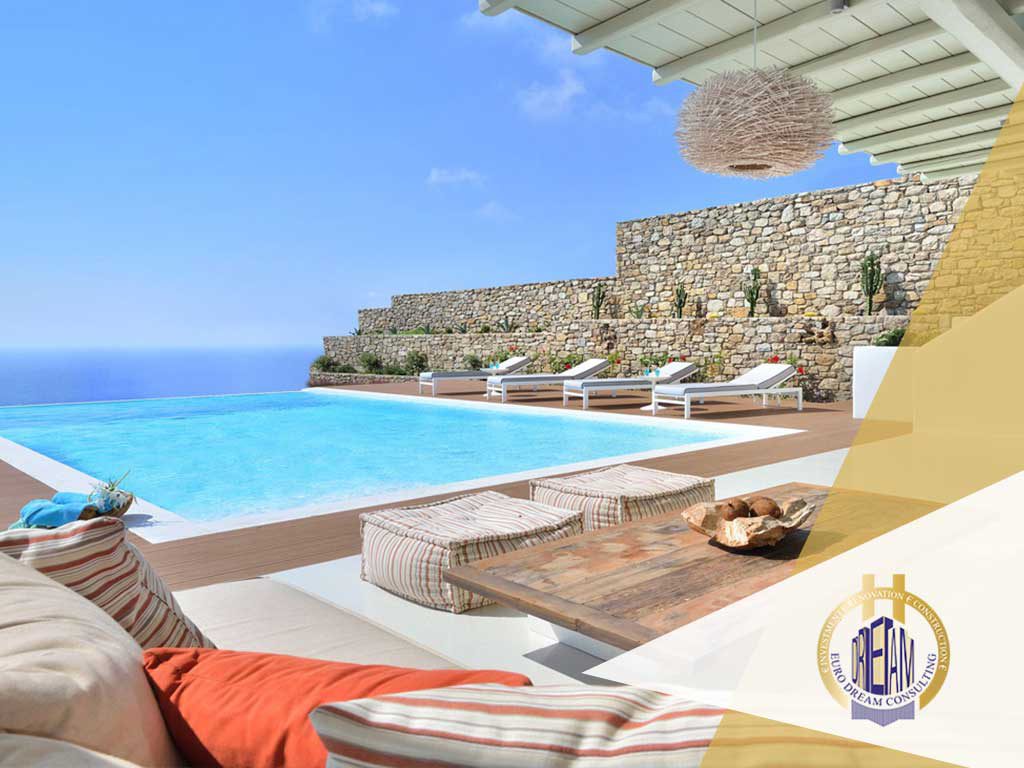 To rent your property you need to make sure that you have made the necessary expenses that may reduce the value of your property. For example, you paid for the Real Estate Commission, the house was cleaned, the equipment was cleaned and the sofas were cleaned, the gardens and pools were well maintained, home appliances were repaired, damaged and unsuitable items have been properly replaced, electricity and water bills, insurance, etc. have been paid for and many other things have already been considered. In Greece, some realtors and construction companies for real estate and homes that do these activities well. They do so at much higher prices.
Also keep in mind that some service companies do all this for rental homes and holiday homes and even some private homes in Greece such as types of villas in Greece, types of apartments in Greece and types of villas in Greece and they make a deal with a homeowner in Greece.
Use the expertise of real estate consultants and brokers to rent property in Greece
All the topics and parameters you need to know about real estate rentals in Greece
One of the most important issues for people who are renting property in Greece is whether they want to do it themselves or use real estate brokerage services. This will be especially important when a person owns a second home and wants to rent or plan to invest in Greece by buying a holiday home in Greece as a place for income and may have several holiday homes or Have a building complex in Greece or a set of villas in Greece as hotels, motels or inns or even rented houses and not have the ability and time to handle them.
If you do not have the time, the best way is to use a real estate agent to rent a property in Greece, who will also take care of your property while renting, advertising and finding a client for the property. Usually an agent or real estate agent will give 20% to 40% of the rental price, but some of these high-price real estate agents in Greece will compensate you for this. And provide affordable income for homeowners or vacation rentals to their clients.
If you want your property giving the place in the listing of property advisor, you should contact them before the summer arrives. The last opportunity is usually September. Even if you plan to arrange this yourself, vacation rental companies are usually the best option. These companies welcome advanced, large and luxury homes.
There are many self-governing holiday companies in Greece and local real estate consultants are also seen as real estate agents in all parts of Greece.
Be careful when choosing a real estate agent in Greece. Many of these unknown consultants simply go bankrupt.
You also need to make sure that the cost of renting your rented property in Greece will be periodically deposited into an account in your name, and it is even better to have a lawyer or an agent monitor it. Choosing a reliable and trustworthy company is very important because anyone can easily set up a real estate or vacation company and claim to be an expert.
It is always the best option for foreigners to choose their own country brokerages who are well versed in the situation in Greece and have the most experienced Greek domestic specialists, subject to lease and legal lease requirements and property controls and can best handle the situation for you. There are many law firms in different countries that work with legal and reputable law firms and legal advisers in Greece.
Select a real estate agent or real estate broker in Greece
In order to select a real estate agent or broker you need to ask for some information and find out about it. These include:
Time to pay rental income
What are the extra costs to be paid? And why should they be paid?
What information and features will be offered to the client for your property? And the sample that should be provided to you
Who can let your property? For example, what nationalities, what kind of families, and whether they have children.
What are the characteristics of the area market for your rental property or vacation rental home?
Do you have to pay for advertising and marketing expenses as well?
Can you use your own property at any time? Some real estate agents may tell you in summer or in busy times that you may not be able to use the property for yourself or the people you refer to or need to be notified sooner. This time has to be determined.
What is the monthly discount rate at specific times?
What is your minimum and maximum income per month for a rental property?
Real estate brokerage companies in Greece usually simplify their rental conditions, as opposed to real estate advisors through newspapers, magazines, overseas agents and direct invitations to some tourist sites and other countries. Property management contracts in Greece are usually annual. These contracts should also include routine work for the property and daily services such as cleaning, maintenance and emergency services needed for the property, trimming the lawns and gardening, changing beds and bedding, inviting guests and Advertising should be for the property, providing guest consulting services for the use of home equipment, providing sufficient information on costs and guest maintenance, and so on.
Often, property management and hiring companies hire people to provide guests with the services they need, and at the end of the guest check-out, clean and tidy up the house. Services such as this for the home are at an additional cost depending on whether it is a regular home, an apartment or a luxury home. Prices range from € 1,000 upwards per week. These companies should also conduct an initial survey before the guest enters a rental home or rental villa in Greece to ensure that everything is safe and tidy.
It is advisable that when you are told, the property is not rented out and the property is vacant, intangible, and, without the knowledge of the company or real estate consultant, consider yourself or a friend or agent or lawyer. To make sure that what you are saying is true. In addition, when renting a home or property in Greece for a short term, you need to make sure that the property is rented in a legal manner. You may also need to inform your insurance company about some of the issues.
Renting property in Greece by yourself
Everything you need to know about renting your own property in Greece
Some real estate owners prefer to lease their property to friends, family, peers, colleagues and acquaintances. This will not only help them have better control over the property, but will also less worry about damage to property.
Usually the best way to get a large volume of client property in Greece is to do it yourself, or to do it by yourself controls. Although many international real estate brokerage firms also do marketing from your home country to your property in Greece, they usually have many clients to rent your property in Greece from your own country and very few your rental homes in Greece will be left empty, especially in the Greek tourism seasons.
The only thing you need to do when using your home brokerage services to rent property in Greece is to specify the type of guests. Whether they are single, married, age, smoker or alcoholism, pet or not, and so on. For some homeowners, having a pet in their home is unacceptable, some do not want their young child or under 5 to come home, and thousands more. Although applying these terms and conditions for real estate may take away many of your opportunities to rent your property in Greece, it is still your decision and you must set the necessary restrictions on house renting in Greece as you wish.
Rental rates and deposits for renting property in Greece
To find the rate you want to rent a property in Greece, you have two choses. One of them is that you have to do it yourself, you need to consult with a number of real estate consultants and real estate companies in your own country or Greece who have a good info about your Greek property.
 In this case, you either have to get the property specifications and get the rates from them, which of course they do very little do it for you, or you have to give the home and the property with your property specifications and get them around the price. Most of these companies and real estate consultants offer you the highest rate for renting your property, or the lowest rate for benefit of renting it. Another way is that, you can find newsletters, magazines and online sites about renting real estate with your property details. The third way is to use the expertise of international brokers in your own country.
It is better to announce a reasonable realistic rate for your property in Greece, as the competition for renting a home in Greece is high. Consider a non-refundable deposit to rent your property. This amount is agreed upon for security of rent payments and costs and is usually between € 150 and € 300. The deposit is usually refundable up to six weeks after discharge. Most of this money is returned to the tenant after the property has been vacated. The best time to rent a property in Greece is July and August.
Advertisements for renting a rental house in Greece
If you would like more attention to your property, you can advertise in your local and foreign newspapers and magazines for rent in Greece. You have to choose the best publications, newspapers and sites for your ads that have a large audience. Note, however, that property advertising is illegal in Greek newspapers and magazines, whether for sale in Greece or for rent in Greece. But you can do this in your local or country websites and newspapers for people who are planning to travel to Greece.
Using real estate directories and websites is usually cheaper and reasonable. Tourism agencies can also be a great place to advertise your property in Greece and connect travelers to your property.
You can also advertise your Greek rental house among friends and coworkers, crowded magazines and clubs, corporate information pages and by interacting with various companies inside Iran and so on. The more marketing you do, the more revenue you will get. Relationships with travel agencies and reputable agencies within Iran can also have a lot of customers for you. Remember that having a cell phone and fax is essential. For better and more effective advertising, you should get quality photos and short videos from your Greek rental house and get discounts for your compatriots.
Use the Internet to advertise rental property in Greece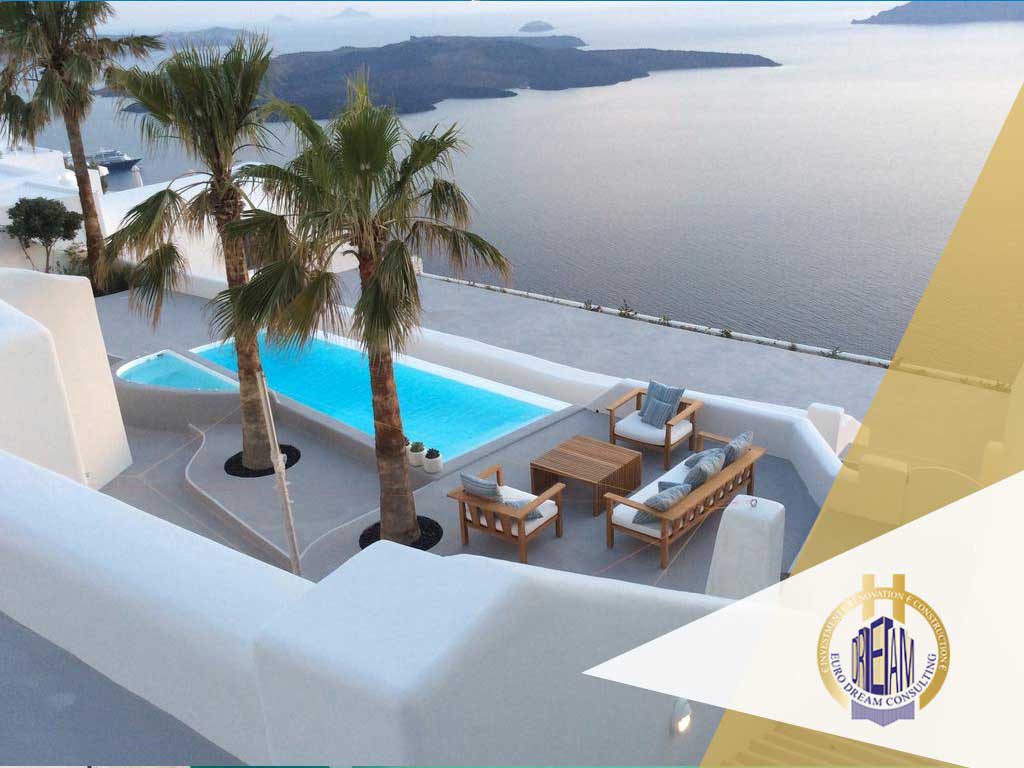 The use of internet advertising has become increasingly popular among real estate owners in Greece, especially having a personal website is a great advertisement. You can enter all the photos, booking forms, reservation and rental conditions, seasonal bids, complete property information, maps and addresses and property conditions that are vacant or in rent etc. on this website.
You can also enter information on flights, trains, fares, tourist attractions in Greece and tourist attractions around the property, local sports facilities and car rentals, etc. and easily link your information to other websites. A simple website that gives customers contact information and prices. You can link your site to other similar websites.
You can also easily advertise for your Iranian customers and the bids you give them, and share your links with various agencies and seasonal travel conditions and more in Iran. Remember that offering affordable prices will make many people who wish to travel to Greece more willing to rent your rental home. Especially if your property is in a good and touristy area.
Use brochures and leaflets to advertise a rental house in Greece
If you can't set up your own website, or have no connection with internet advertising, or don't know enough, one of the best ideas might be to use brochures and leaflets to advertise a rented house in Greece. It should be for travelers and tourists. These brochures should include all interior and exterior images of the rental property, including full details, precise location of the property, local attractions and tourism around the property and Greece, maps or location details and anything that enhances the value of the rental home.
Check out a few brochures for a great brochure. Do not look for distortions of facts in your brochures and pamphlets. Tell the truth whatever it is. Keep in mind that getting information these days is not a problem and a bad customer experience will not be pleasant to you. But reality can make things better.
Customer inquiries about renting property in Greece
Some people who rent their property in Greece decide to do services such as traveling and showing home, etc. To do this, you need to have the expertise, the costs needed to do well, and most importantly the ability to respond to customer needs and requests. A variety of prices such as airfare, ferry, taxi, electricity and telephone etc. Local attractions and tourism, the best seasons, the benefits of your property and thousands of other questions to answer. You also need to have people to provide these services. Usually this is not cost effective and is the best way to use the services of consultants, agents and official brokers.
Customers should be given information on rented property in Greece
For your acceptance and post-acceptance as well as the information needed in your promotions, provide your guests with a help pack. These packages should include:
A map of the area and instructions on how to find tourist attractions and other areas and offices and places that guests need.
Complete and accurate information on local and regional attractions around rental property in Greece. This information will be available free of charge at local tourist offices
Emergency Contact Numbers in your country, Iran as well as Greece. This is very urgent because of possible problems for travelers.
Keys and instructions for using property equipment
Other customer alert and safety tips
Your phone number or your lawyer or representative
Important tips for renting property in Greece
The most ideal way is for the person to be on site when welcoming their guests and to provide them with tips and questions to determine and address their questions and ambiguities. In this case, the client and the guest can easily request and express their problems.
You should also put a packet of information for your guests at home. In this package you should include:
Instructions for operation and commissioning and use of kitchen equipment, television, heating and cooling and air conditioning
Security measures
Local emergency numbers and health services around the property such as a doctor, dentist or hospital etc.
Addresses and public emergency services numbers such as car repair, plumbing, electrical work, pool maintenance, etc.
Number and address of shops, restaurants and bars as well as sightseeing and tourism areas
Many professional property owners in Greece produce a booklet and add all this information and other useful and readable information to their guests. Even this book comes with ads, questionnaires and bids.
Some homeowners in Greece surprise their guests with fresh flowers, essentials, fruit juice, and some other necessities. This will make these guests and tourists simply introduce him or her to other friends and acquaintances. This means having more guests and higher profits.
Many people have become so popular in Greece after one or two years of renting their property that they no longer need to rent or set prices. Easily always come up with many suggestions.
Finally, it is advisable to always consider tourism services, property selection in Greece, buying property in Greece and renting property in Greece etc. with a reputable institution or legal entity in your language as well as Greek language and international laws and regulations. Even in Iran. Many international law firms and real estate agencies, even in your own country, have been known for such services for many years.
Sell Property in Greece
Tips to Sell Property in Greece
So far, there has been a thorough explanation of how to buy a property in Greece, all types of property in Greece for buying and investing, a variety of ways to make a profit and rent a property in Greece or even your property for rent in Greece.
But many people are looking to sell their property in Greece after years of buying property in Greece, or better yet, investing in Greek real estate. This is either because of the region's rising prices and the profits they are looking for or because of the need for their money.
The impact of the major measures taken by the Greek government to stabilize its economy also reflected on the growth and profitability of Greek property. Especially since 2015, most people who have invested in Greek real estate have easily made a profit on this path, which has often been an acceptable profit.
The Greek real estate market has become an attractive place for some investors. Especially buying an old house in Greece and renovating or repairing or even refurbishment a home has become a profitable activity in Greece for some people. Remodeling and reforming old homes is also one of the best ways to buy a cheap home and ultimately sell high value property in Greece.
But if you need to sell your property in Greece anyway, you need to consider some important points.
In spite of the many economic problems that plagued the Greek economy, however, due to the growth of the Greek tourist population, we did not see much change in the real estate sector in Greece and maintained its stability well even in poor economic conditions.
 Since 2016, the Greek real estate market has become an attractive market for emerging economies such as China and Russia, and alongside the two countries, many investors from the UK, Germany, Italy and Norway have turned to the Greek property market.
Meanwhile, in the United States and Australia, there is still an acceptable population of Greeks who want to buy property in their home country.
Many people bought property in Greece because of falling property prices. But Greek property price indices and statistics show a completely different direction now. In recent years there has been a lot of growth in Greece, Greece has come out of financial crisis and many infrastructure and facilities have been created in Greece. Greece is now competing to become Europe's first power and to stand alongside other powerful European nations.
Now the question arises whether, despite the impact of these factors on property price growth and a brighter prospect for further property price growth in Greece, should land be sold or is there still room for growth in Greek real estate?
The future is certainly uncertain, but many experts believe that property owners in Greece can expect to sell their property in Greece in the years to come.
Many real estate agents or brokers, but believe that now is the time to sell property in Greece. This is due to the influx of people from countries such as Russia and China to buy property in Greece and in fact these people are looking for profit from the Greek property deal.
What is clear about the sale of property in Greece is that property prices are rising in Greece, and most investors are currently buying property in Greece.
The Greek government is doing its best to persuade investors to buy property in Greece. For example, one of the main measures taken by the Greek government to encourage investors to buy property in Greece is to grant Greece a golden residence, which does not even require permanent residence in Greece.
In Greece According to the latest decisions of the Greek government, those who buy property in Greece can acquire a Greek golden residence by buying a property worth 300,000 euros. However, even in some areas of Greece up to 250,000 euros can be bought in Greece, and Greek residency can be obtained through renovation, refurbishment, repair and maintenance of homes.
In addition, buying a property in Greece and obtaining a Greek residency is a unique opportunity for non-EU people to be allowed to travel widely to European countries without the need for a visa, which includes the Schengen States.
This shows that despite the very good market for buying property in Greece, people who own property in Greece can easily and rapidly sell their property in Greece. There are many ways to sell a property in Greece. For example, one of the most important measures that some people take to sell more valuable property in Greece is to put furniture and home appliances for sale in Greece and actually sell the furnished home In Greece.
Many people who are looking to buy a home in Greece or other countries are known as property hunter. They may also have homes and property in several other European countries. Therefore, they do not have the opportunity to buy furniture and home appliances and prefer to buy furniture house in Greece.
Mostly people who buy property in Greece and who may be your first customer when you want to  selling property in Greece, are people who use these homes as holiday homes in Greece and at times when they themselves They do not use the property, they rent the house.
They often seek to buy villas, townhouses, apartments, and other types of homes and properties in Greece in order to gain a great deal of profit by renting this property in the busy seasons. Villas and rental homes have been in high demand in recent years due to the rapid growth of tourist and traveler populations in some Greek cities and some are willing to pay a high price for a one-night stay.
More than 20 million tourists visit Greece every year, and statistics show that the population is growing.
When selling property in Greece, it is imperative that the property is in the best condition for sale so that the highest value property can be sold in Greece. For this purpose, it is best that you make the minimum repairs and renovations or maintenance needed for the property and pay all insurance and property taxes at the right time.
It is also important that your property has all legal documents for sale in Greece, and that these documents are available and not owned by the organization or the bank. Documents such as property tax documents, copies of electricity, water and gas bills, etc. that have been paid, property deed and municipal duties must be available. In addition, in order to be able to sell property in Greece at a fair price, it is important to have a bilingual lawyer who is fluent in Greek low property law.
Another very important point is that in order to sell a property in Greece, you must calculate and pay the tax on the sale of the property. It is your duty to pay the property tax on the property price and you cannot place the matter on the buyer. Keep in mind that profits from property sales are calculated at a rate of 20% of the profits from investing in Greek real estate.
Understanding the laws and regulations of property sales in Greece, as well as knowing all the details needed to sell property in Greece, can put you in better shape and less stressful for selling your property. It is also important to know that the terms of sale of property in Greece are not that complicated, most notaries often do business, and you or your lawyer only need to sign the documents and pay the costs. It is important to know that investing in Greece has been profitable for you. This requires careful consideration of the property conditions at the time of purchase, so that you can invest elsewhere when making a substantial profit.

The following are some of the steps you need to take to sell a property in Greece:

Step 1: Status
The first and most important factor for selling a property in Greece is to make sure that the terms or legal status of your property or house in Greece are in accordance with the new laws on the sale of property in Greece.
Step 2: Property Valuation
Before you put your property on the sale list, it is best to have a detailed assessment of the property price in Greece and the area where your property is located. It is best to take a realistic approach to these valuations and do not seek to offer unrealistic prices to property buyers in Greece. It is advisable to offer a competitive price for the sale of property in Greece, which will make it less likely for a real estate buyer in Greece to reject your offer.
Keep in mind that real estate that is expensive and over-priced will not have a lot of buyers and that in the end you will have nothing but waiting for you. Of course, this does not mean that you are bidding lower than the actual price. This will also make the property buyer doubt your property and reduce the likelihood of buying the property. Therefore, having a thorough valuation and competitive pricing is always the best price for selling a property in Greece.
Step 3: Agency agreement
Always for the sale of property in Greece, it is best to agree with the real estate agent or real estate consultant who is going to sell your property before any action is taken. To do this, you must sign an agreement and specify all the terms in it. You must have a copy of this agreement or contract and provide a copy to the realtor.
The real estate consultant may ask you for a property map, an overview of the property, a copy of potential property licenses, property tax bills and some other documentation. So it is best to prepare these before agreeing with your real estate agent.
Keep in mind that in this agreement, your suggest price should be mention in lower and higher range, the share or fee of the real estate consultant should be set, and that you have agreed to any fraud or underage work.
Step 4: Determine methods of advertising property for sale in Greece
You can agree with your realtor on what methods to use to advertise your property. Even you can do it yourself. Better take pictures of the property from different angles, and even make a short video of the property's conditions and amenities around the property and place it on various sites or real estate consultants. This will allow you to get more referrals to buy property in Greece.
Step 5: Required repairs and maintenance or refurbishment
To sell a property in Greece, think of yourself as a buyer. Are you ready to buy this property in Greece? For this reason, it is necessary to make some repairs, maintenance or possible refurbishment to the property before placing the property for sale in Greece. If the property wall is a little cracked, the building's paint is broken, the building's roof is falling or the building is leaking, it will easily discourage the property buyer. Even if you are willing to buy property in Greece under these conditions, believe that it will reduce a great deal of property value. For this reason it is best to do these repairs before you put the property up for sale at a low cost so that you can sell the property in Greece at a high price.
Step 6: Negotiation
Always give bargaining power to the property buyer in Greece. Keep in mind that the fun of buying a property in Greece is for the buyer to know when he or she has been able to negotiate a discount on the price of the property. In fact, this is a discount rate that you should already consider for your property, and when negotiating with the property buyer, you or your lawyer can assure your buyer by deducting that amount from the price of the house in Greece, Make sure buyer make a good and valuable purchase.
Step 7: Pre-agreement with the buyer
Before finalizing the purchase contract, it is advisable for your real estate agent or lawyer to sign a pre-contract or Pre-agreement with the client and outline issues such as the agreed price, deposit amount, purchase expiration date, and so on. This agreement should be after your negotiations with the buyer of the property in Greece and both parties, both the buyer and seller of the property in Greece or their lawyers, must sign the pre-contract.
Step 8: Closing Costs
In general, the main costs of closing a property sale contract in Greece include: 5% to 15% capital gain, engineering certificate, green certificate, attorney's fees and real estate and agent costs.
Step 9: Notarial Contract
In the final step, you or your lawyer should arrange the details of the sale of the property in Greece by going to the Greek notary. This will require all the steps needed to transfer the property to the new buyer and possibly pay off the tax debt, if any. It usually takes between 4 to 6 weeks for the notary process to take place and after that the sale of the property in Greece is done.
Keep in mind that by selling a property in Greece, you can invest the profits of investing it in buying another property in Greece. If you have acquired Greek residency through investing and buying property in Greece, you may lose your Greek residency by selling property in Greece. For this reason, it is advisable to immediately buy another property to obtain a residence permit in Greece, if you still wish to stay in Greece.
Keep in mind that all stages of selling a property in Greece can be done by hiring a lawyer in Greece or a lawyer or a reputable international law firm in your own country. Buying and selling property in Greece is nowadays considered as one of the ways of investing in Greece that makes a lot of profit for the investors in Greece.
Renovation in Greece

Modernization and improvement of property in Greece
Greece is one of the oldest and most influential countries in European history, culture and civilization. This historic country has created great value for investors in real estate. In recent years, with the introduction of new investment policies, there are many ways and means by which different individuals and investors can invest in Greece. One way is to help develop and improve Greece's infrastructure.
The most important and one of the best and most profitable ways of investing in Greece is buying old property and renovated houses and remodeling or repairing these houses and reselling them or using them as a holiday home or a second home or even a rental home.  Instead, Greece grants investors a golden or permanent residence for this investment.
The idea of ​​redevelopment has a huge financial benefit for investors. In this way you buy an old or damaged home that is not worth much and then replace it in a way that is popular in the Greek real estate market. Many houses have to be renovated to do this, some need refurbishment, some are completely repaired and some are completely rebuild, some even buying old houses in Greece, They are completely recreated or remodeling.
It makes no difference what kind of investor you are in Greece. These types of antiquities are different in Greece. You can choose residential, commercial or tourist real estate in Greece, and you can easily by give license change or remodel property or even developing some old property in Greece to new one.
Greek redevelopment or modernization policy
You may be wondering why the Greek government is pursuing a policy of rebuilding and remodeling the worn-out sector of Greece, giving its investors residency or providing them with many benefits.
Greece is a large country with many impersonal assets. Many of these properties were vacated in the 60s and 80s. Some owners of these houses or properties have left the country. Some who still live in Greece have bought new homes for themselves and have no desire to claim for this property any more. In such a case, the owners of these properties will be either government-owned or some private sector will own the land. Given that these properties are not attractive to buyers or tenants or even their former owners themselves, the Greek government, by adopting this policy, intends to renovate and expand this dilapidated property segment.
For this reason, the Greek government has encouraged foreign investors to invest in the worn-out Greek sector. These types of incentives are all kinds of loans and banking facilities as well as providing permanent residence in Greece. But in order to obtain a golden residence in Greece or to obtain a large Greek bank loan, you have to renovate or remodeling the property and actually convert it. According to Greek law, anyone who invests in a dilapidated or outdated Greek property, whether domestic or foreign investor, can easily change the status of their property. A complete package of documents to change the status of buildings in Greece, for example for a land of 1,500 meters, costs about 30,000 euros.
The subject of the redevelopment of this group of properties in Greece is not only to rebuild, rearrange, remodel or overhaul various Greek homes and estates, but also to redevelop these properties. For this reason, the reconstruction and renovation of real estate in Greece is intended both for the development of Greek infrastructure and for the purpose of legal change in the functional purpose of the property and in order to identify Greek property documents.
Keep in mind that in the renovation and remodeling or refurbishment of real estate in Greece, the square meter of each property remains unchanged and the internal content of the property changes. However, some investors may buy two or more adjacent properties and remodel them as one, for example for commercial and tourism purposes.
What are some tips for rebuilding and renovating property in Greece?
In order to gain a lot of profits, there are a lot of points to be taken in the construction, renovation and restoration of old buildings in Greece. For example, the conditions of the property and its position in Greece must be taken into account, as well as the capabilities of the property being well measured. In the current economic situation in Greece, one of the best ways to rebuild and repair buildings in order to gain a lot of benefits, is to renovate buildings and office buildings into residential or rental homes and vacation homes.
This is also because, in the current situation, a second home and a vacation home are desperately needed, and there is a lack of rejection in this area. Demand for rental homes is higher than the number of rental homes and vacation rentals in Greece, and many tourists and travelers are willing to pay a lot of money for every night.
In recent years, there has also been an increase in the number of foreigners interested in Greek residential properties. Many investors are looking to buy apartments, townhouses, villas or cottages, even furnished in Greece. This has led many smart investors to buy old houses and Rebuilding them into a modern, residential home will greatly benefit.
Much of Greece's office space today is empty. This is due to the situation in Greece in 2007, when many government agencies abandoned their buildings and moved to renovated buildings. More than 180,000 people were laid off during the transfers. For this reason, many government centers and institutions that were previously used in Greece are left unused today.
Many of these offices are now being offered at very low prices to applicants for renovation and are even easily licensed for remodel and user change. Meanwhile, the price of the old property has not grown and remains stagnant. By modifying and rebuilding these properties, one can easily benefit from this change.
What buildings are good for redevelopment?
There are many opinions on the reconstruction and development of ancient real estate in Greece. Many experts and experienced people in this field take most of the property's position. But most experts believe that buying and renovating large buildings is the best choice for property redevelopment and renovation in Greece.
 They believe the property should be at least 400 meters below ground. On the other hand, properties larger than 2000 meters are not very suitable for renovation or refurbishment. Because both the long process of renovation is needed and the high cost of renovating the property.
If you are considering renovating or remodeling your home, it may not be the same as it was a few years ago, but if you are planning on repairing your home, the property should not be more than 40 to 50 years old. The older the property, the higher the cost of repairs in Greece.
Also keep in mind that some of the old properties in Greece cannot be demolished and rebuilt, many renovations are not issued for some properties, but these types of properties are usually considered for repairs.
Sometimes demolishing a cheap old property does not make any economic sense to rebuild it. Therefore, what property you choose for remodeling and renovating is also important.
10 Important Things to Consider for a Home Remodeling, Renovation or refurbishment in Greece
Everywhere in Greece one should not buy and renovate an old house. Some areas of Greece are worth more investment. For example, buying an old house in Crete and renovating it is very economical. In Crete you can easily have a second home and a vacation home by renovating or renting a home to many customers during vacations.
All types of renovations and repairs in Greece require a license. If you are planning to buy an old house in Greece and resell it in Greece after renovating, you need a legal certificate in accordance with Greek law 4178. In such circumstances, the home must be fully repaired or rebuilt with the specifications of the license issued. Otherwise, you may be subject to heavy fines.
All investors who invest in Greek real estate and plan to rebuild and remodel their home should use the Greek National Insurance I.K.A
To do this, you must register with the regional insurance office and get an insurance office. All workers and people who work at home are covered by this policy. The insurance is paid by the property owner. Therefore, even for a simple repair of property in Greece, a national insurance policy must be prepared.
Although this is not the case in all areas of Greece, in some areas of Greece, this must be done in order to renovate some of the properties in Greece, in accordance with a specific method and pattern. For example, in some of the traditional Greek villages, the facade and roof of the building must reflect the original style and construction of the house in the area.
You must use a reputable electrician to build or renovate a building. This is for your own safety and security, though its price is a bit high.
When buying an old home for rebuilding property in Greece, make sure the property is connected to the main sewer system. If not, it should have a septic tank. But if there were none, you would have to consider an area of your home for a septic tank.
Most older homes have a proper plumbing system, meaning they have tap water. But if the plumbing is damaged and worn out, you will need to plumb again. However, the plumbing system usually needs to be re-implemented at the time of renovation. Most of Crete's villages are connected to the traditional drinking water supply system, so many investors buy old houses in Greece or similar areas to reduce their costs. In any case, you need to redesign your water and sanitary facilities to modernize your home in Greece.
When reconstructing property in Greece, be very careful about the boundaries of your neighbors. Neighbors with strangers and foreign investors have never had problems but are very sensitive to the boundaries of their home. For this reason, when buying an old property in Greece, the boundaries of the property have to be topographic. And this should include part of your property contract. According to Greek law, topographic boundaries are provided by the property seller in Greece.
Greece's climate is temperate, which means it can be very hot in some areas in summer and cold in winter in some areas. Although having large windows can have stunning views, but if the weather is sunny and warm most of the year, sunlight can be annoying. Choosing high quality double glazed windows can greatly eliminate this problem. If the house is cold, you can use stone houses with small windows. Remember that the choice of materials for construction in Greece must also be carefully considered. For example, insulating the roof against the heat of the sun or rain penetration is important. Do not forget the air conditioning and central heating system. Many old houses have a fireplace with a chimney, if you like the style of home, the idea of ​​a fireplace and a chimney is a great idea.
It is important to have a reputable architect and lawyer in Greece for repairs, renovating, remodeling, restoration or any other alterations to old homes in Greece. The lawyer will review all of the home's documentation, select the best and deliver the property to you in legal terms. A good architect, however, can choose the best material for you, renovate the house to your liking, and design, build, and decorate the building to the best of your knowledge of Greek environments.